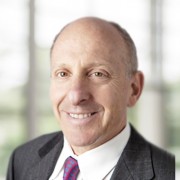 Dan Wiener
Editor, The Independent Adviser for Vanguard Investors
Dan Wiener is editor of The Independent Adviser for Vanguard Investors, a monthly newsletter that has provided in-depth reporting on and guidance for investing in the Vanguard fund family since 1991 and is a five-time winner of the Newsletter Publishers Foundation's editorial excellence award. Dan also edits the newsletter's annual companion publication, the Independent Guide to the Vanguard Funds, which features individual profiles with detailed statistics, analysis and recommendations for each of Vanguard's mutual funds, ETFs and annuities.
Dan's insights and analysis on the Vanguard fund family often appear in leading financial publications such as the Wall Street Journal , Barron's and Forbes. He has also appeared on CNBC, PBS and Bloomberg television.
Dan is also chairman and CEO of Adviser Investments, a money management firm which he co-founded in 1994 in response to numerous requests for his personal supervision over client accounts. In 2013, Barron's ranked Adviser Investments, which now has over $2 billion in assets under management, among the top 25 independent financial advisers in the U.S.
Prior to starting The Independent Adviser for Vanguard Investors, Dan Wiener reported on personal finance for U.S. News & World Report and Fortune magazine. He received a B.S. from Tufts University.
Recent Articles
Friday's surge in the CBOE Volatility Index (VIX) wasn't nearly the biggest move in the index's history. Let's view it with some perspective
Even a 1% fed funds rate means interest rates will remain exceptionally low -- far from anything resembling "tight" interest rate policy.
With rising yields come falling prices, and with falling prices come dramatic headlines.
May was something of a tale of two markets and two economies as we were divided between the good and the not so good.
Vanguard's Personal Advisor Services its essentially an entry in the "robo-advisor" field. The service will appeal to those with small savings who want basic advice and little human contact.

Join InvestorPlace Digest — FREE!
Get the best free advice from the world-class analysts at InvestorPlace... delivered straight to your inbox.