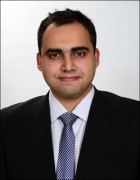 Faizan Farooque
About Faizan Farooque
Faizan Farooque is an enthusiast at heart. A former analyst with S&P Global Market Intelligence, he lets the data do the talking but is not afraid to look beyond the numbers and find hidden gems that the market can often ignore. An optimist at heart, he believes in looking at the long-term growth story of a company and then deciding on whether it merits a place in your portfolio. Although he isn't partial to any sector, REITs are his first love.

Join InvestorPlace Insights — FREE!
Get actionable advice from our top experts, including the hottest stocks to buy & sell, 401k and retirement tips, market analysis and more!
Recent Articles
The rise of cryptocurrency prices has made them some peoples' newest form of investment. Here are seven growth cryptos for your portfolio.
DIDI stock is a hot potato because of the regulatory issues. However, whether it delists or goes private, you can make money on this one.
PLTR has a solid relationship with the defense establishment, but now it's expanding internationally, which bodes well for the stock.
Banking on cheap stocks to drub shares of growth companies is not a recipe for success, but it's a sound strategy in the current environment.
Shiba Inu could make you a multimillionaire or clean out your savings. With that kind of volatility, you should proceed with extreme caution.