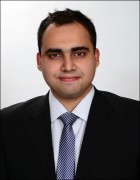 Faizan Farooque
Faizan Farooque is an enthusiast at heart. A former analyst with S&P Global Market Intelligence, he lets the data do the talking but is not afraid to look beyond the numbers and find hidden gems that the market can often ignore. An optimist at heart, he believes in looking at the long-term growth story of a company and then deciding on whether it merits a place in your portfolio. Although he isn't partial to any sector, REITs are his first love.

Join InvestorPlace Insights — FREE!
Get actionable advice from our top experts, including the hottest stocks to buy & sell, 401k and retirement tips, market analysis and more!
Recent Articles
AMC stock is good for swing trading. But Redditors cannot change the fact that it offers little value in a world moving towards streaming.
CLOV stock has followed the traditional SPAC boom-and-bust cycle. However, it's still not low enough to call it a viable investment.
Raising cash through massive equity issues will only hurt SNDL stock, but management isn't taking this into consideration.
If you want to compile a list of the best stocks to buy, these seven Big Data companies are excellent, growth-oriented investments.
5G ETFs offer flexibility, tax benefits and risk management. Hence, they offer a safer way to invest in this growth-oriented space.