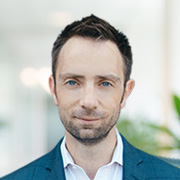 Matt McCall
Editor, MoneyWire
Matt McCall is the founder and president of Penn Financial Group, an investment advisory firm serving individual and institutional clients. He also travels extensively and speaks to thousands of individual investors each year about investing and personal finance. Over the last decade, he has focused his energy on individual stocks as well as exchange-traded funds (ETFs), becoming one of only a few analysts to offer expertise in both areas. This concentration on stock selection has cultivated a precise top-down, macro-to-micro strategy to maximize profits and manage risk.
Matt's approach to investing goes back to his first days as a stockbroker at Charles Schwab 17 years ago. He loved much about the job, but there was also much he didn't love, and Matt soon realized there were better ways to serve his clients and better stocks to invest in than the same ones the rest of Wall Street focused on.
He is known across Wall Street for his extensive technical analysis expertise, and his insightful chart analysis leads to precise buy and sell points in the best stocks and ETFs that pass his extensive top-down screenings. His outstanding track record speaks for itself. Across his multiple newsletters, more than 80% of his recommendations since 2015 have been profitable for his subscribers.
Matt is now pleased to bring his expertise, passion and commitment to a bigger group of individual investors. He believes deeply in helping people build their wealth through investing in hypergrowth trends that are changing the world we live in, and he is also an advocate of educating investors so they understand exactly how these investments work for them.
Matt is also the author of two books on investing, starting with "The Swing Trader's Bible: Strategies to Profit from Market Volatility." His second book, "The Next Great Bull Market: How to Pick Winning Stocks and Sectors in the New Global Economy," was a top-selling investment book for more than two years.
Matt's extensive background in investing and the media make him a highly sought-after speaker and guest. He served as the chief technical analyst as well as co-host of "Winning on Wall Street," a daily national radio show, and has over 1,500 television appearances in the last 10 years. He is also a former co-host of a daily investment show on Fox Business Network, has contributed to the Fox News Channel, and appeared daily as a panelist on Fox Business Network's "Making Money with Charles Payne."
Matt's education includes a bachelor's degree in Finance from Kutztown University and an MBA in Finance from the University of Colorado.

Join Matt McCall's MoneyWire — FREE!
Get Matt McCall's market analysis & stock recommendations to profit from today's biggest emerging megatrends.
Recent Articles
On this episode of MoneyLine, Matt gets into a wide variety of topics. First, he covers the stocks you asked for on Twitter and whether he thinks they're good investments or not. Then, he discussed President-elect Joe Biden's stimulus plan and how it will affect stocks in the near future.
In this episode of the MoneyLine podcast, Matt McCall takes a look at more than 20 stocks that you asked about on Twitter. Some are recent high-flyers, while others are hidden gems.
Here are four major disruptions on the way that create a "perfect storm" of change and opportunity for investors in the auto industry.
Louis Navellier and Matt McCall are in complete agreement that the coming year has all the makings of a big year in the market … and an even bigger year for the stocks they've picked together.
On today's episode of MoneyLine, Matt dives into the investment implications of the Democrats taking over all three houses, including the one investment that you must avoid. He also touches on SPACs, bitcoin and more.