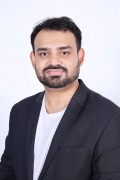 Muslim Farooque
About Muslim Farooque
Muslim Farooque's background as a qualified chartered accountant helps him weed through and find the best stocks based on fundamental strength. He has extensive experience analyzing and evaluating investment possibilities, market trends, and stocks.
After qualifying as a chartered accountant, Muslim completed a Bachelor of Science degree from the prestigious Oxford Brookes University. He then went to work as a financial copyrighter before finally settling on an analyst role.
He specializes in a value investing approach that involves picking stocks that appear to be trading for less than their intrinsic or book value. Muslim accomplishes this task by analyzing the impact mergers, acquisitions, operating performance, and the economy have on the particular stock.
Apart from his interest in finance, he is also deeply involved in all things tech. Muslim is a seasoned professional in building and implementing SEO, email marketing, and Adwords strategies largely for small to medium-sized e-commerce sites. He is also working towards obtaining a CFA charter and data science degree to marry his two main interests — tech and finance — to produce even better analysis.
If you enjoyed one of his articles and want to continue the conversation, you can reach out to him at muslim.farooque@gmail.com.

Join InvestorPlace Insights — FREE!
Get actionable advice from our top experts, including the hottest stocks to buy & sell, 401k and retirement tips, market analysis and more!
Recent Articles
These names are performing remarkably despite recessionary pressures. Consider these bargains the top stocks to buy this week.
These Dow stocks to buy are trading at attractive prices and offer immense long-term value to investors at this point.
For massive future returns, consider taking a position in these long-term stocks to buy before the bull market returns.
These small-cap stocks to buy before the bull market returns have underperformed the market, but have immense potential for future gains.
These clean energy stocks could blow up in the not-so-distant future and trade at highly attractive price multiples.