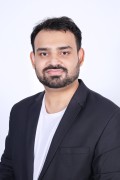 Muslim Farooque
About Muslim Farooque
Muslim Farooque's background as a qualified chartered accountant helps him weed through and find the best stocks based on fundamental strength. He has extensive experience analyzing and evaluating investment possibilities, market trends, and stocks.
After qualifying as a chartered accountant, Muslim completed a Bachelor of Science degree from the prestigious Oxford Brookes University. He then went to work as a financial copyrighter before finally settling on an analyst role.
He specializes in a value investing approach that involves picking stocks that appear to be trading for less than their intrinsic or book value. Muslim accomplishes this task by analyzing the impact mergers, acquisitions, operating performance, and the economy have on the particular stock.
Apart from his interest in finance, he is also deeply involved in all things tech. Muslim is a seasoned professional in building and implementing SEO, email marketing, and Adwords strategies largely for small to medium-sized e-commerce sites. He is also working towards obtaining a CFA charter and data science degree to marry his two main interests — tech and finance — to produce even better analysis.
If you enjoyed one of his articles and want to continue the conversation, you can reach out to him at muslim.farooque@gmail.com.

Join InvestorPlace Insights — FREE!
Get actionable advice from our top experts, including the hottest stocks to buy & sell, 401k and retirement tips, market analysis and more!
Recent Articles
Online sports betting stocks made over $4 billion last year. The market is set for exponential growth as more states legalize sports betting.
FUBO Stock is a growth machine which will continue blow past investor expectations for the foreseeable future and you can't pass up on at this time.
Canoo has a fascinating year with a lot of opportunity ahead, but there's a tad too much risk for GOEV stock at this time.
DiDi's delisting scenarios are likely to have its U.S. investors in a sweat at this time. Hold off on DIDI stock for now.
ETH-USD will be dominating the crypto market despite the recent hiccups and soar to new heights this year with its 2.0 update.