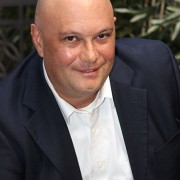 Will Healy
InvestorPlace Contributor
Will Healy is a freelance financial writer. He had a lifelong interest in the stock market, trading equities since the dot-com boom. Will pursued his passion for writing after working in the corporate world as both an analyst and an insurance sales professional. He likes to approach the market by focusing on deep value, dividends, and speculation.
Will's writing has focused on stock analysis, as well as real estate, insurance, personal finance, macroeconomics, and politics. Along with InvestorPlace, his work has appeared on numerous sites, including Seeking Alpha, Yahoo! Finance, MSN Money, Kiplinger Tax Letter, and GOBankingRates. He holds both a B.S. in Journalism and an MBA in finance and strategy.

Join InvestorPlace Insights — FREE!
Get actionable advice from our top experts, including the hottest stocks to buy & sell, 401k and retirement tips, market analysis and more!
Recent Articles
The boost Johnson and Johnson gets from a reduced payout in Oklahoma will prove temporary as JNJ faces many more judgments.
While Beyond Meat stock initially wowed thanks to its offer to provide meat-lovers with a healthier (and still tasty) vegetarian alternative, the fine print is starting to take its toll.
I NTC is well-positioned to succeed in the long-term. However, Intel stock faces some near-term struggles as it waits for tech to evolve.
These Buffett stocks adhere to the Oracle of Omaha's investment philosophy and trade at levels that should continue to attract new buyers.
The outlook for Hexo stock turned negative quickly, and unless or until HEXO finds a bottom, investors should watch rather than buy.