Two weeks ago, we warned you about the coming "Crypto Crash," on the idea that while cryptocurrencies – and more broadly, blockchain technology – represent the future, they're presently far too hyped-up by investors who know far too little about the technology underlying the Blockchain Revolution.
That call proved prescient.
On Friday afternoon, April 23, the biggest cryptocurrencies in the world tanked.
Bitcoin dropped 8% during those 24 hours, and 20% for the week.
Ethereum… down 11%
BinanceCoin… down 10%.
Ripple… down 22%.
Cardano… down 12%.
Dogecoin… down 24%.
Just look at this chart. It's all red.
The only coins that weren't slammed were the stable coins that, by definition, aren't supposed to move…
Obviously, today cryptocurrencies have risen from their lows and continued to rocket higher. But the cracks are beginning to show.
While this past downturn wasn't the big crash, it was the minor correction that comes before the big crash.
At risk of sounding like a broken record, we do think that cryptocurrencies represent the future. They are the key technological element to creating a new Decentralized Economy that is fairer, freer, and faster. Just look no further than our own recent crypto recommendation in the Daily 10X Stock Report, which you can subscribe to here.
Cryptos are the future.
But the internet was the future back in 1999, too, and that didn't stop dot-com stocks from getting crushed from 2000 to 2003. Most "Dot-Com Boom" companies actually got wiped out.
About 7,000 new dot-com companies launched in the late 1990s, and by 2003 around 5,000 of them had disappeared.
And that brings us to a discussion about the "Hype Cycle."
The Hype Cycle is a graphical representation developed by Gartner to represent the life cycle of new technologies. Specifically, the Hype Cycle says that new technologies go through five phases:
Technology Trigger: A new breakthrough technology emerges, new companies are born, early VC investors pour money into those new companies, and a small wave of early adopters use these new technologies.
Peak of Inflated Expectations: Mass media coverage begins, tons of new companies emerge hoping to capitalize on the trend, everyone starts hyping up the tech as the "next big thing," and more and more mainstream folks start using the tech.
Trough of Disillusionment: First-generation products based on the tech disappoint, new companies start to fail, the media talks about those failures, the hype train fades, and new VC money comes into the space as sky high expectations come down.
Slope of Enlightenment: The mainstream media forgets about the new tech, but the companies that remain work to finetune the technology and develop second- and third-generation products that have much clearer value-props and use-cases.
Plateau of Productivity: The technology starts to be used the masses, and the companies in the space enter a prolonged period of durable growth.
Graphically, these stages can be represented in the following chart.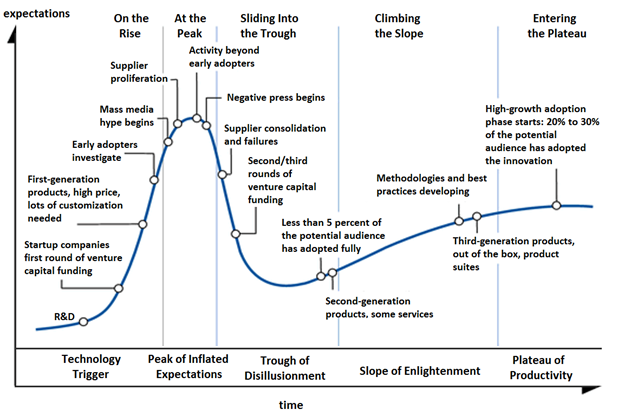 We believe cryptos are currently in the initial stages of the "Peak of Inflated Expectations" phase.
That is, the mainstream media just started covering cryptocurrencies over the past few weeks, and the mass proliferation of altcoins in the market has dramatically accelerated in 2021.
The actual usage of cryptocurrencies and blockchain, though, still remains largely niche. We have yet to see many of these cryptos fail in a headline-grabbing way, and the mainstream media has not yet turned negative on their coverage of cryptos.
That's why we think the recent drawdown in cryptocurrencies was the minor correction before the big crash.
Our best guess is that the big crash will likely come in a few months, once a few big-name cryptocurrencies fail, the mainstream media writes about those failures, and everyone starts thinking that the whole trend was overhyped in the first place.
Over the subsequent few months to years, we will enter the Trough of Disillusionment, wherein thousands of cryptos will fail and several hundreds of billions of dollars of value will be wiped out. Investors who aren't smart here will get crushed.
But… investors who are smart… will make millions. And "being smart" is exactly what we strive for in DTX, which we accomplish by finding emerging growth technologies with high-value applications.
After the Trough of Disillusionment comes the Slope of Entitlement, followed swiftly by the Plateau of Productivity. The big money is made in these phases.
It is during these phases that the wheat is separated from the chaff, and true visionaries and innovators in a new technology emerge.
During the internet era, this durable growth phase started in 2003, and during this phase, companies like Amazon, Netflix, Facebook, and Alphabet started to use the internet to create second- and third-generation products and services that would go on to change the world.
Cryptos will follow the same path.
A big crash will wipe out more than half of this market. After that, the best companies in this space will create second- and third-generation cryptocurrencies that will change the world.
Those are the cryptocurrencies you want to buy. Those are the cryptos that will return 100X or more during the 2020s. And those are the cryptos I aim to highlight in DTX.
But… in a cryptocurrency market that features more than 4,000 unique altcoins… finding the dozen or so that will turn into enormous winners is a tall task.
Fortunately, we're doing the leg work for you.
We are putting together a team of very qualified cryptocurrency experts who understand blockchain technology at the most granular level, and who are researching cryptos all day, every day.
The team's goal? Put together a portfolio of cryptos that trade on more than hype, instead trading on their massive potential to impact the world over the next two decades, the same way Amazon and Alphabet impacted the world.
We aren't done. The job here is never done. There is so much progress and innovation happening in the crypto world right now that our research is a never-ending evolution…
But we have found a few cryptos that we think – thanks to their technological superiority, clear value-props, and widespread use-cases – will be enormous winners over the next 3, 5, 10-plus years.
And we are highlighting some of those cryptos in our ultra-exclusive research platform, The Daily 10X Stock Report, which is aimed at delivering to your inbox – every single day – a stock pick (or crypto pick) with 10X upside potential.
To gain access to that research product, click here to subscribe.
On the date of publication, Luke Lango did not have (either directly or indirectly) any positions in the securities mentioned in this article.
By uncovering early investments in hypergrowth industries, Luke Lango puts you on the ground-floor of world-changing megatrends. It's how his Daily 10X Report has averaged up to a ridiculous 100% return across all recommendations since launching last May. Click here to see how he does it.
Innovation Investor
Innovation Investor is Luke Lango's premier newsletter. Each issue, Luke uncovers ground-floor opportunities in explosive new megatrends, including blockchain, autonomous vehicles, and even supercomputing. It's your chance to get an inside look at tomorrow's cutting-edge opportunities today. Click here to learn more.
Exponential Growth Report
Exponential Growth Report is Luke Lango's most exciting, powerful service, where he hunts for future technology juggernauts in the micro- and nano-cap world. These stocks are small enough to fly under Wall Street's radar… and he predicts the profit potential can be staggering as a result. Click here to learn more.
Click to Subscribe to Luke's Quick Picks YouTube Series
Follow Luke on Twitter, the Best Place for Real-Time Hypergrowth Updates.