The stock market has been slammed in 2022, thanks to concerns surrounding the Federal Reserve and inflation. While we view the selling pressure as warranted, we also believe it is creating a golden buying opportunity in the markets — and for tech stocks in particular.
After all, the U.S. stock market's history is riddled with instances of fear begetting opportunities — and big fears created big opportunities. Well, today we have some big fears. And true to historical precedent, it's creating huge opportunities.
The concern here is that the Fed and inflation have the power to absolutely crush the U.S. economy and markets in 2022. Specifically, to fight inflation, the Fed is projecting that it will hike rates aggressively into what is an increasingly slowing economy. Last Thursday, Federal Reserve voting member James Bullard said that he wants to hike rates four times by July. And now the market is allocating an 88% chance that the Fed rate-hikes at least seven times in 2022.

That's problematic because leading economic indicators are deteriorating to signal a slowing economy ahead.
For example, the University of Michigan's monthly Consumer Sentiment Index for February was released last Friday morning. It clocked in at a decade-low reading of 61.7. The index has dropped precipitously over the past year. Historically speaking, such huge drops in consumer sentiment to abnormally low levels are a leading indicator of consumer spending slowdowns.
It happened in 2001. Then it happened in 2005, 2007, 2012 and 2020. And it will likely happen again here in 2022.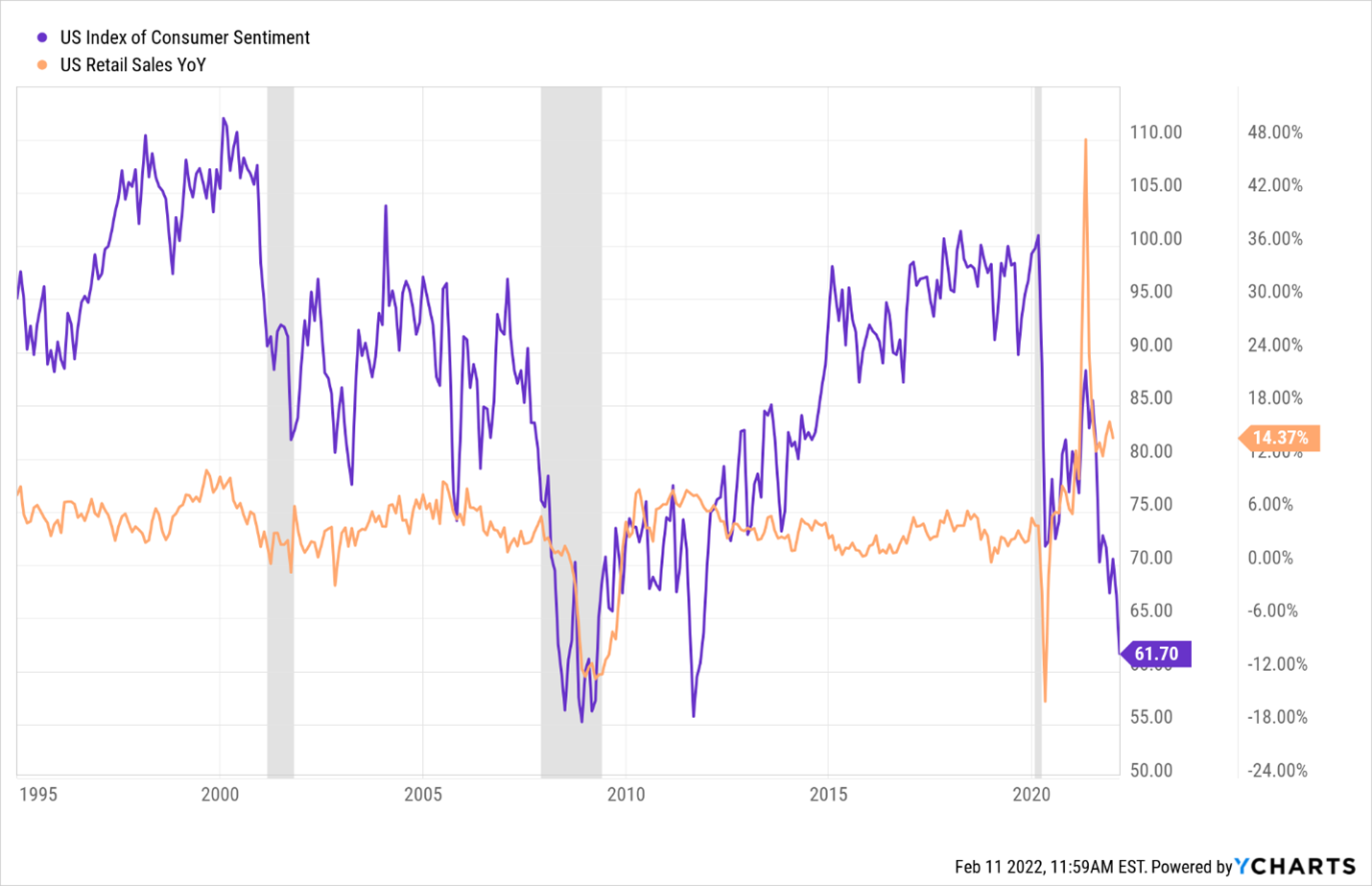 A Dovish Federal Reserve
The concerning part therein is that consumer spending powers about 70% of the U.S. economy. If consumers slow down in 2022, the U.S. economy will slow down, too.
Ahead of that, the market thinks the Federal Reserve could hike rates seven times. That's a scary prospect. Hiking aggressively into an economic slowdown could lead to a recession.
These fears are illustrated in the bond market, where the Treasury yield curve has dramatically flattened to record-low levels. And historically, such a rapid decrease to an ultra-flat curve has: 1) led to a recession and/or 2) led to the Fed cutting interest rates.
Today the yield curve is levelling to ultra-flat levels ahead of what some are saying will be seven or right rate hikes! If that does happen, we believe the U.S. economy will head into a recession — and the stock market will crash more than 20%.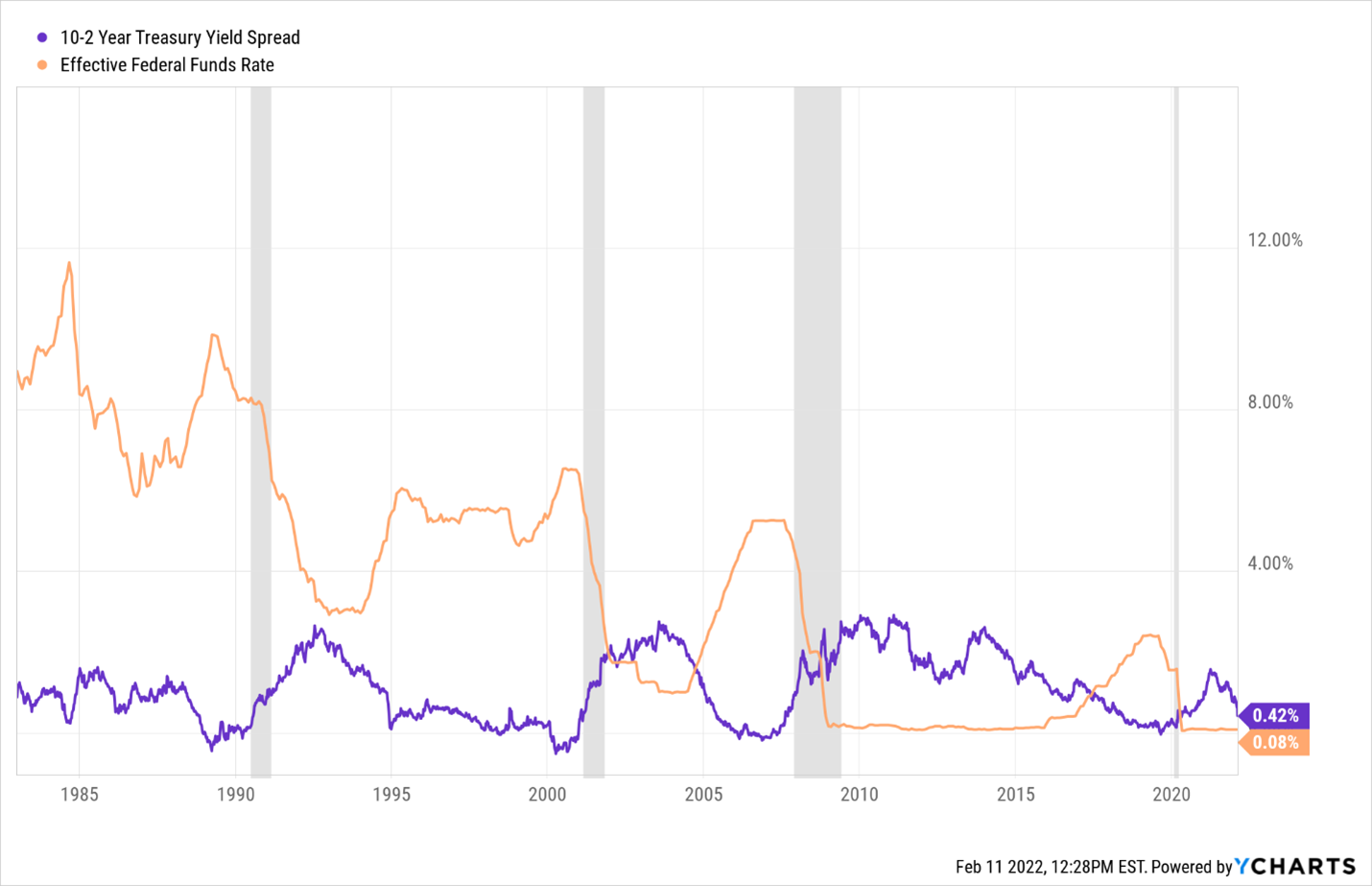 However, we believe the Fed will do no such thing…
And that instead of an imminent crash, the stock market is due for an enormous rebound.
This is a patient, data-driven and historically dovish Fed. It's led by a man — Jerome Powell — who hates to be the bad guy and who hates to see the stock market crash because of the central bank. Shortly after the S&P 500 dropped 20% in late 2018 and then-U.S. President Donald Trump was laying blame at the feet of the Fed, Powell cut interest rates in early 2019.
This Fed has a history of responding to market and economic data, and turning dovish to avoid a meltdown.
They will do the exact same thing in 2022.
Tides Are Changing
We believe inflation pressures will dramatically ease over the next few months. Supply chain issues are already improving, and the LA Port chief sees "normal" conditions returning by the summer. Consumer demand is slowing, allowing companies to work through their backlog. The semiconductor chip shortage is improving amid expanding production capacity. And the comparable periods will start to get tougher for inflation by March. Covid-related quarantine and restriction policies are abating, allowing for superior production output.
All in all, we think the inflation data will cool dramatically between now and summer. During its March and May meetings, this ultra-patient, ultra-conservative and very data-driven Fed will look at that slowing inflation data, and say: "Well, maybe we should take it slowly."
This sentiment was echoed by multiple Reserve members across various interviews last week. From a CNBC article that printed last Friday morning:
"CNBC reporting found that several Fed officials were already looking for a bad inflation number and the January report was not substantially worse than expected. Improvement is not expected until midyear, and only then, if it remains high and rising and does not respond to rate hikes and plans for balance sheet reduction, would these officials want to accelerate the pace of tightening."
That is the right approach here.
Likeliest Move for the Federal Reserve
The Fed should not respond to trailing inflation data. It needs to move slowly, see how inflation reacts and then respond. We have confidence in this Fed to do just that. And further, we have confidence that after a few rate hikes and as supply chains improve, inflation rates will meaningfully subside by summer. And the Fed will hold off on further tightening.
In that scenario — which we view as our base-case scenario — stocks chop around over the next few months before staging an enormous breakout rally in the second-half of 2022.
All stocks will rally. We see a potential 10% to 15% rally in the S&P 500. But certain stocks will rally more — much more. We believe some stocks could soar 100% or more over the next 12 months alone.
The best time to buy them is right now!
Find out the names of those stocks, including the name of one, tiny $3 "wonder stock" that I think could rise 10X.
Remember: Big fears create big opportunities. Today the market has big fears. That means that today you also have big opportunities. Capitalize on them now.
P.S. I work with a lot of brilliant people. One of them, Charlie Shrem, is a Bitcoin (BTC-USD) millionaire who knows more about cryptos than just about anyone. And a few days ago, he unveiled a new opportunity that he thinks will be even bigger than Bitcoin. Click here to watch his presentation, where he reveals his No. 1 crypto to buy for 2022 — a pick he thinks could soar 15,000%.
On the date of publication, Luke Lango did not have (either directly or indirectly) any positions in the securities mentioned in this article.