Everyone is worried about the Fed, inflation, a war in Europe and Covid-19 lockdowns in China. But my team and I are laser-focused on something else entirely: the unprecedented breakout in hypergrowth tech stocks happening right now!
Indeed, over the past few weeks, hypergrowth tech stocks have staged an enormous takeoff. By enormous, I mean huge. The size amounts to the biggest we've ever seen…
And we're capitalizing on it.
In our flagship investment research advisory, Innovation Investor, some stocks in our model portfolio are up 50%-plus over the past two weeks alone! The common theme among those? They're all hypergrowth tech stocks.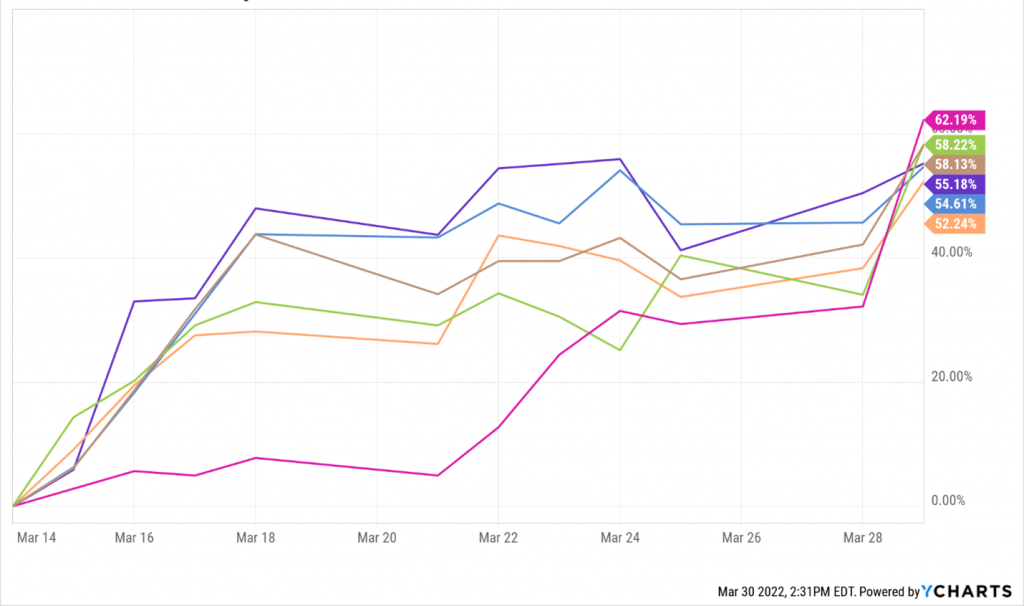 Those are some huge gains. But we passionately believe that the best is yet to come.
In fact, our comprehensive analysis strongly suggests that despite all the macroeconomic and geopolitical volatility right now, hypergrowth tech stocks are in the initial stages of forming a new bull market.
You read that correctly. A new bull market is forming as we speak.
We think the next 12 months will usher in huge gains for hypergrowth tech stocks. Those who invest in them today will make enormous sums of money in 2022. And those who sit on their hands, paralyzed by inflation and war fears, will miss the opportunity of a lifetime.
Here's a deeper look.
The Biggest-Ever Breakout for Hypergrowth Tech Stocks
We are currently watching history being made right before our very eyes.
That is, hypergrowth tech stocks are amid their biggest breakout ever. That's not our opinion. That's the data.
As many of you know, Cathie Wood's ARK Innovation ETF (NYSEARCA:ARKK) is a portfolio of about 36 different hypergrowth tech stocks. It's a good proxy for the sector.
And that ETF is currently amid its biggest breakout ever.
The ARK Innovation ETF has rallied 35% over the past 12 days alone. That 35% gain is its biggest 12-day rally ever. It's even bigger than the rally it saw coming out of the Covid crisis in April 2020.
And that 35% understates the magnitude of some of the rallies we're seeing out there today. Like I mentioned earlier, a handful of hypergrowth tech stocks in our Innovation Investor portfolio are up more than 50% over that same stretch!

That's the good news. The better news is that this is just the beginning of a much bigger breakout.
Big Short-Term Breakouts Lead to Huge Long-Term Gains
Historically speaking, big short-term breakouts like this tend to mark the beginning of new hypergrowth tech bull markets. And they precede huge muti-month returns for hypergrowth tech stocks.
We saw breakouts like this in March 2016, January 2019, April 2020 and July 2020. Granted, they weren't as big. But they were still breakouts where hypergrowth tech stocks rallied more than 15% over a 12-day stretch.
Each of those led to huge three-month, six-month, and 12-month forward returns in hypergrowth tech stocks.
The only time the ARK Innovation ETF didn't see huge returns coming out of a big short-term breakout like what we're seeing today was in December 2020. And that was a melt-up on the heels of a huge rally, which is the exact opposite of what we have today (a breakout on the heels of a big downtrend).
Overall, even including the December 2020 "head fake," big short-term breakouts in hypergrowth tech stocks have tended to produce, on average, 35% returns over the next three months, 56% returns over the next six months and 75% returns over the next 12 months.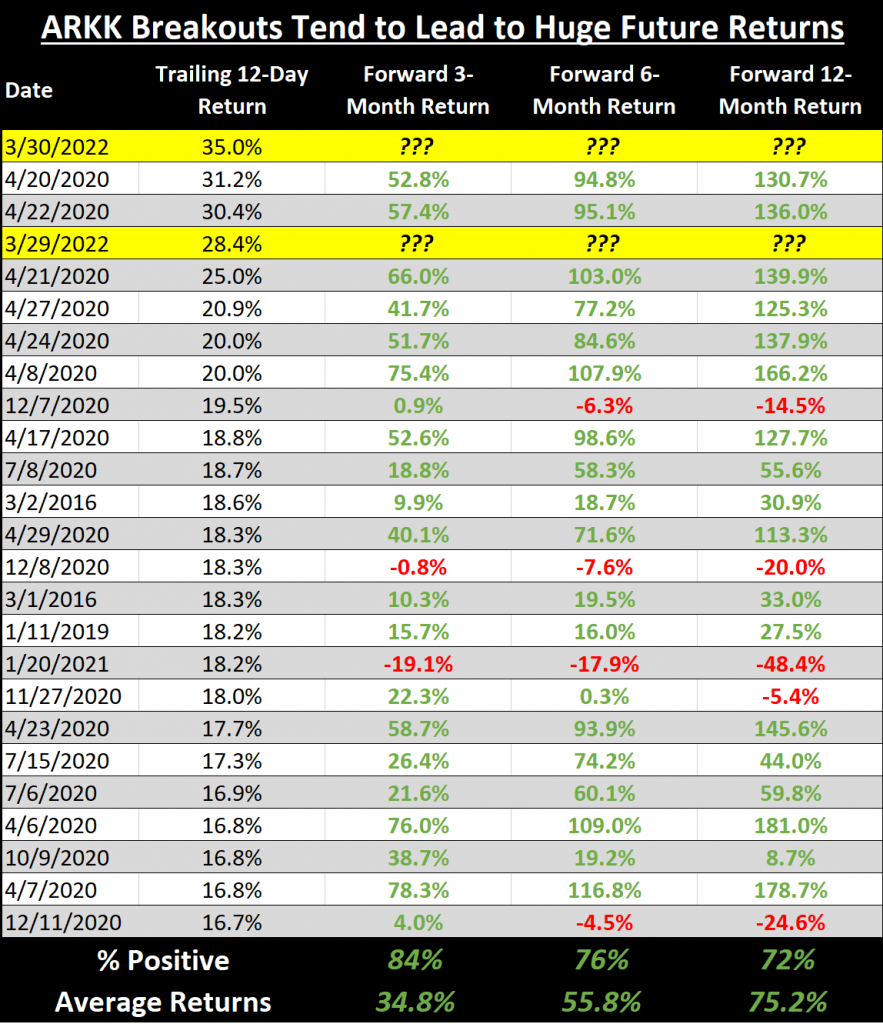 That's tough data to argue against…
What we're seeing today is the biggest breakout in hypergrowth tech stocks yet. Historically speaking, the bigger the short-term breakout, the bigger the long-term returns. The April 2020 short-term leap of ~30% produced 12-month-returns of ~130%. We're looking at a 35% gain today. Mathematically speaking, then, one could very reasonably argue that hypergrowth tech stocks will rally by 150% or more over the next year.
No wonder we're so bullish on them here and now. A new bull market is forming. And it's time to jump aboard this runaway train before it leaves the station.
The Final Word on Hypergrowth Tech Stocks
In the stock market — as is true in life — crises create opportunities.
History is clear on this. Every time the stock market drops, it inevitably rebounds back to and exceeds all-time highs.
This has happened repeatedly for decades. Never — not once in the history of the stock market — has a drop not led to a rebound to new all-time highs.
Today's stock market crisis is creating a compelling opportunity to buy the dip. That opportunity is most pronounced in hypergrowth tech stocks, which are already bouncing back in their biggest short-term breakout ever.
Join that breakout and give yourself the chance to double your money in a hurry.
To find out how to best do that, gain access to a portfolio of hypergrowth tech stocks that's roaring higher right now.
On the date of publication, Luke Lango did not have (either directly or indirectly) any positions in the securities mentioned in this article.