Wouldn't it have been great if you made a bunch of money yesterday, while the market sank on recession fears? Well, you could have, if you were an Innovation Investor subscriber. Just a few days ago, we told subs to buy the dip in CrowdStrike (NASDAQ:CRWD), before the cybersecurity provider reported what we expected were going to be blowout earnings on Wednesday night.
Well… guess what happened last night?
CrowdStrike reported excellent earnings that beat on everything — fourth-quarter revenues and earnings, first-quarter revenue and earnings guides — and 2022 revenue and earnings guides, too. All came in well-above expectations.
And guess what happened to CrowdStrike stock? It popped. By more than 12% in a down market.

The takeaway here is that you can always make money in the stock market. You can make money in bull and bear markets. You can make money in economic booms and recessions.
At any point in time, you can make money in stocks.
You just have to know where to look.
And the best place to look right now is in cybersecurity stocks.
We've been pounding the table on cybersecurity stocks since the Russo-Ukrainian crisis emerged in late February because it has emphasized that modern warfare is cyberwarfare.
That is, modern warfare isn't exclusively fought on battlefields between people. It's also fought digitally in the cloud and between computers. Indeed, the Russo-Ukrainian conflict has, to date, been characterized by unyielding cyberattacks.
This is a Cyberwar.
And things are only going to escalate from here.
The Rise of Cyberwarfare
After the U.S. and its allies imposed heavy sanctions on Russia, the country is looking to retaliate. Its options are:
Economic — but they can't inflict much damage this way because the Russian economy is a drop in the ocean compared to America's.
Militarily — but they can't really hurt us that way either because the Russian military is also tiny compared to the combined military might of the U.S. and its allies
Cyberattacks — where they can cause significant harm because cyberwarfare is something the Russians have developed a reputation for being quite good at.
Russia is going to choose cyber.
The Belfer National Cyber Power Index pegs Russia as the fourth most capable country globally when it comes to "cyberwarfare" abilities. In terms of offence, Russia ranks third. And if you're the American government or a U.S. company or citizen, that's spooky stuff.

Therefore, Russia will likely expand this conflict into global cyberwarfare. That's where they have an advantage. And in that scenario, the U.S., its allied nations, and all the major corporations in those countries are going to spend enormous sums of money on cybersecurity.
Importantly, this spending is going to happen no matter what happens to the U.S. or global economy. Digital security is increasingly becoming a mandate that, even in a bad economy, you must expend for. And most of this spending is done by governments, whose budgets are not impacted by macroeconomic events.
To that extent, we view the cybersecurity spending surge of 2022 as somewhat immune to a recession.
And that's why we're buying cybersecurity stocks like CrowdStrike in Innovation Investor. These stocks are going to soar in 2022, even if the U.S. economy falls into a recession.
Cybersecurity Stocks' Huge Long-Term Upside
But we're long-term investors, and therefore, we aren't just playing cybersecurity stocks as recession-proof trades for 2022. We're investing in them for the long haul, too, because we believe they have huge upside potential over the next five years.
According to Gartner, worldwide spending on cybersecurity solutions has grown by ~9% per year since 2014. While that may not seem that impressive, simply consider three things:
1.) Cybersecurity spending constituted just 3.5% of IT budgets in 2021, a rather small portion that implies enormous room for share-of-budget expansion in the coming years.
2.) Cyber spending growth has consistently accelerated over the past few years, as the need for security solutions has become increasingly mission-critical. Spending grew just 5% in 2015. In 2021, it grew by more than 12%. And it's expected to grow another 12% in 2022.
3.) The importance of cybersecurity solutions will continue to grow as we move into an increasingly digital-centric society. And amid this shift, cybersecurity spending growth will continue to accelerate.
For those reasons, our analysis suggests that we are in the first few innings of a multi-decade breakout in the cybersecurity industry.
We believe that cybersecurity spending will grow to roughly 6% of IT budgets by 2030 and 8% of IT budgets by 2040. This will power what we see as 11% annualized growth in spending throughout the 2020s and 8% annualized growth through the 2030s.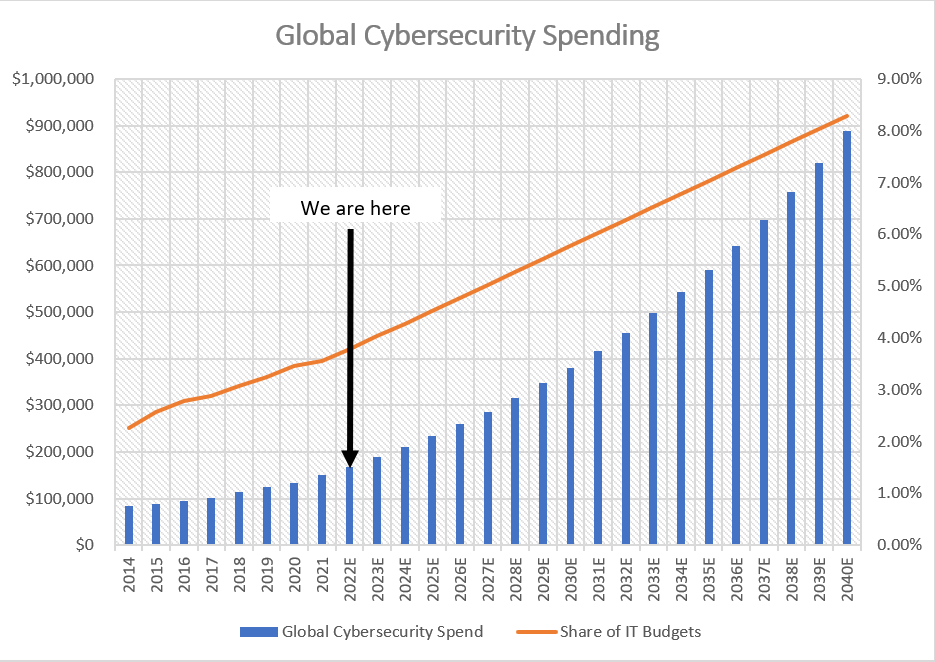 In other words, this industry is just getting started.
Bull Market in Cybersecurity Stocks
You shouldn't look at cybersecurity stocks as great options to buy now and sell in a few months for marginal gains. You should see them as great stocks to buy now and sell in five-plus years for 100%-plus profits.
CrowdStrike fits the bill. But it's not the only one we're bullish on right now.
There's always a bull market somewhere, even in recessions, during wars, and against the backdrop of soaring inflation.
In 2022, we strongly believe that — no matter what happens to the U.S. economy — we will see a bull market in cybersecurity stocks.
With those, you've got it all right now –long-term winners, huge revenue growth, wide competitive moats, big margins, scalable software business models. The stocks are down 30%, 40%, and even 50% in some cases. The valuations have collapsed to record-low levels. And with the conflict happening in Eastern Europe, there's a huge demand catalyst unfolding right before our very eyes.
That's a cocktail for a huge rebound in cybersecurity stocks – both this year and over the next 5-plus.
In our advisory Innovation Investor, we just completed a deep dive into the entire industry. Our team analyzed every publicly traded cybersecurity company out there. Just yesterday, we released our findings to subscribers in a 21-paged special research report.
It has everything you need to know about the cybersecurity industry — the major facts and trends, the near- and long-term outlooks and key players. Most importantly, the report includes Buy Alerts on two must-buy cybersecurity stocks right now.
Find out the names, ticker symbols, and key business details of those two Strong Buy stocks. And get your hands on this ultra-exclusive research report.
On the date of publication, Luke Lango did not have (either directly or indirectly) any positions in the securities mentioned in this article.