Editor's note: "Say Hello to the Best Stocks to Buy for 2023" was previously published in January 2023. It has since been updated to include the most relevant information available.
News flash: The stock market is in the early innings of a massive comeback.
Inflation is crashing. The Fed will pivot very soon. A recession will be averted, and stocks will soar in 2023 like they've done only a few times before. That's why the market has had such a red-hot start to this new year.
And the smart money has been bracing for a mega-rally in 2023.
You should be, too. And we believe that some of the best stocks to buy in 2023 are software stocks.
Here's why.
Best Stocks to Buy: Software Wealth Creators
Software stocks have a long track record of being fabulous wealth creators. They've outperformed the broader stock market by more than 7X since 1992.
The reason is simple. Software is the best business model in history.
A software company can develop a single code base from which it can resell the same software platform repeatedly to various different customers. Compare that to a shoe-maker, who has to make a new shoe every time they want to sell a new shoe. For every 10 shoes they want to sell, they must incur the costs to make 10 shoes. But for every 10 products a software firm wants to sell, it only incurs the cost to make 1 software code base.
Broadly, then, software firms have significantly lower expense bases than other businesses. This results in huge profit margins and massive cash flows.
The average profit margin for a software stock? About 33%, more than double the average of every other firm.
Because of this superhuman ability to print profits, software stocks have been the best-performing stocks in the market since their inception.
Software Spending Will Soar in 2023
We're in a rough economy right now. Most folks expect things to get worse before they get better. Interestingly enough, though, this economic turbulence is setting the stage for software spending to soar in 2023.
According to major research firm Gartner, enterprise software spending is expected to rise significantly in 2023 by more than 11%, versus just 8% growth in 2022.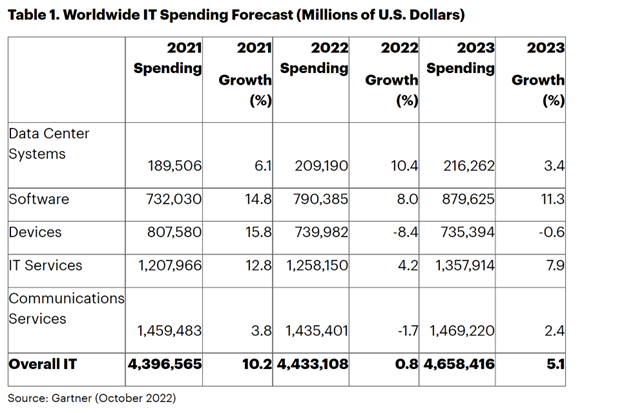 Why? Because enterprises are increasingly using software to navigate through the economic turbulence.
According to Gartner's lead analyst behind the report:
"Enterprise IT spending is recession-proof as CEOs and CFOs, rather than cutting IT budgets, are increasing spending on digital business initiatives."
With IT spending set to accelerate by nearly 5X in 2023 and software stocks trading at relatively discounted valuations, the stage is set for them to pop big this year.
Earnings Will Charge Higher
Gartner's forecast for accelerated enterprise software spending in 2023 is reflected in Wall Street's earnings estimates for software firms.
Wall Street forecasts software earnings to grow by 13.5% next year and 14.5% in 2024. That represents ~14% earnings growth per year over the next two years – one of the strongest marks in any industry.
As you can see in the chart below, software stock prices have historically tracked earnings. When software earnings rise, their stock prices rise, too, and vice versa.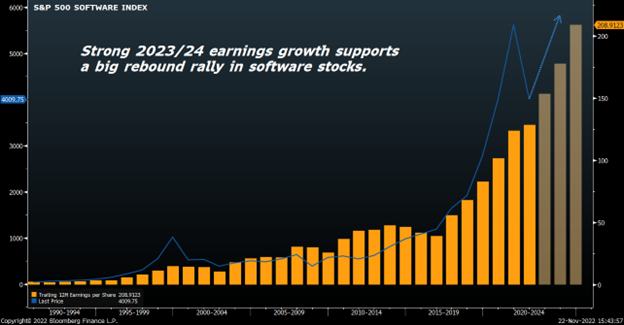 Given that software stock prices dropped in 2022 to relatively discounted valuation territory and that software earnings are projected to rise significantly over the next two years, it makes fundamental sense that they should significantly rebound in 2023.
The Technicals Look Bullish
Looking at the chart for software stocks, I see very bullish signals.
Specifically, they are forming a bullish ascending triangle pattern. The multi-year uptrend support line for software stocks (which held during the 2018, 2020, and 2022 bear markets) has been rapidly converging on a multi-month downtrend resistance line.

In technical analysis, such convergences tend to result in stocks breaking out in the direction of the longer-running trendline. In this instance, the downtrend line dates back to 2021. The uptrend line dates to 2018.
Therefore, textbook technical analysis tells us that these stocks are due for a huge technical breakout in 2023.
The Final Word on the Best Stocks to Buy for 2023
We look at lots of stock market and economic data every single day. The bulk of that data overwhelmingly suggests that the 2022 bear market is ending and a new bull market is emerging.
It's time to buy.
Historically speaking, when bear markets turn into bull markets, stocks soar big-time.
This happened in 2021, 2019, 2009, 2003, and 1991. In all those years, the stock market soared by more than 20% – and certain stocks soared by hundreds of percent!
We've uncovered a unique economic phenomenon that has allowed us to find the stocks that will win the biggest in 2023.
Find out more about that phenomenon – and give yourself a chance to win big this year.
On the date of publication, Luke Lango did not have (either directly or indirectly) any positions in the securities mentioned in this article.