Editor's note: "Buy Smart to Win Big in 'The Great EV Consolidation'" was previously published in March 2023. It has since been updated to include the most relevant information available.
Earlier this year, something major happened that you probably didn't even hear about. But it could be the key to you striking it rich in the EV Revolution.
Oil titan Shell (SHEL) agreed to acquire the beaten-up EV charging station operator maker Volta for $169 million.

Ostensibly, that headline seems somewhat odd – an oil titan buying and EV charging firm. But aside from some raised eyebrows, most folks chalked it up as pretty insignificant.
Shell runs gas stations. Volta runs a network of EV charging stations. Shell wants to hedge against the decline of ICE vehicles and, as such, wants to own a few EV charging stations. It has cash, so it's buying its way into the industry.
Makes sense. Nothing to see here.
Or is there?
In fact, that seemingly meaningless and small acquisition is very significant, mostly because it kickstarts The Great EV Consolidation.
In this Great Consolidation, the electric vehicle industry will dramatically shrink in number of companies over the next few years. We're going to go from hundreds of small EV companies today, to likely less than a half-dozen EV giants by 2025.
This consolidation's investment implications are enormous.
To quote the great Charles Dickens, it will simultaneously be the best of times and the worst of times. There will be lots of bankruptcies and lots of acquisitions; lots of loss and lots of growth. There will be some investors that lose everything – and others that make fortunes.
What side of this Great Consolidation will you fall on?
To get on the right side – and give yourself the chance to make fortunes – you need to be buying the right electric vehicle stocks today. And you need to ditch the bad EV stocks.
Here's what I mean.
An Automotive History Lesson
Our Great Consolidation thesis is rooted in historical precedent. So, for a moment, let's rewind back to the dawn of the gas-powered car.
In 1893, bicycle mechanics (and brothers) J. Frank and Charles Duryea of Springfield, Massachusetts, designed the first successful American gasoline automobile. An automotive gold rush ensued.
A decade later, some 485 companies entered the automobile manufacturing business. All were hoping to strike it rich as the gas-powered car redefined the world of transportation.
It was a "gas-powered car boom" – much like the "electric vehicle boom" of today.
What happened next?
Well, the gas-powered car did go on to redefine the world. Today, around 70 million new passenger cars are sold every single year.
But almost none of those 485 companies that popped up back in the early 1900s became a success story.
Less than 50 were still in operation by 1930. And just three accounted for 80% of the market.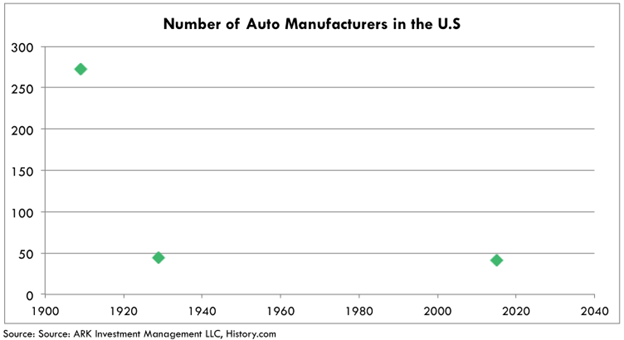 Though gas-powered cars did redefine the world, 9 of every 10 gas-powered companies that emerged didn't survive to see it. Indeed, less than 1 in 100 turned into auto industry titans.
The EV Revolution will play out similarly.
EV Stocks: the Industry Is Too Crowded
Today, there are hundreds of EV makers in the world, all hoping to strike it rich as EVs redefine transportation.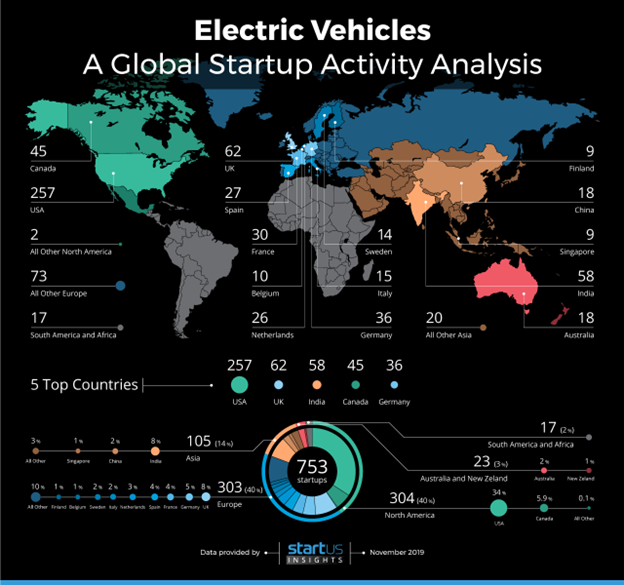 They are all making the right bet. EVs will take over the world over the next 20 years, just as gas-powered cars did in the early 1900s.
And similar to the gas-powered boom, the EV boom of the 2020s and '30s will comprise a few top players. They'll differentiate themselves from the pack in terms of some major value-add, whether it be cost, design, performance, or branding. Those titans will attract all the consumer demand and reap all the rewards of the EV Revolution. And they'll squeeze out the other 90% of companies in the industry.
So, when I look at the EV landscape today, I see a graveyard with a few shining stars.
The key to striking gold in the EV Revolution, then, is to find those shining stars. And avoid the companies doomed for what will soon be a crowded EV graveyard.
How to Find Shining Stars of EV Stocks
We believe there are two ways to strike it rich in the Great EV Consolidation.
First, you can buy leading EV stocks that project as the future titans of the EV industry and will consume the competition over the next few years. These are fantastic long-term bets.
Second, you can buy small, beaten-up, yet still high-quality EV stocks that represent attractive acquisition targets for the aforementioned future titans. These are fantastic short-term bets. Just look at what has happened to Volta stock in 2023. It popped 140% in about a month!

In other words, there are fantastic long-term investments and short-term trades to make to play the Great EV Consolidation. That's why we love this market phenomenon.
Want to make 40% or 50% in a week? You can do that.
Want to make 5X in five years? You can do that, too.
You can make short- and long-term money in any market. But you have to buy the right stocks.
The Final Word on the EV Consolidation
Shell's Volta acquisition will kickstart a Great EV Consolidation period. In it, savvy investors who play their cards right can make fortunes in a hurry.
Fortunately, we have the top EV stock to buy to play this consolidation megatrend.
The common thread among those EV stocks? Most are using a top-secret breakthrough technology that promises to entirely alter the electric vehicle industry – and every other industry, too.
It is the most important technology of our era; maybe even be the most important technology in human history.
And I'm willing to bet you've never heard of it before.
Find out more about this little-known tech – and how to profit from it.
On the date of publication, Luke Lango did not have (either directly or indirectly) any positions in the securities mentioned in this article.