Editor's note: "The Breakout Bull Market You Didn't Know About" was previously published in September 2022. It has since been updated to include the most relevant information available.
You're probably aware that so far, 2023 has been a much better year for the stock market than 2022 was.
Indeed, tech stocks popped more than 30% during the first six months of 2023, marking one of their best first-half performances ever!

Although, considering the continued AI euphoria that's persisted since late 2022, it's no surprise that tech stocks – and AI stocks in particular – have been soaring.
It's clear to us that we're in the early innings of a new tech bull market.
But not all stocks have been rising this year. Following the banking drama that ensued in March, the financial sector has become one of the market's worst 2023 performers. Also lagging are the energy, utilities, and healthcare sectors.
Now, you may be thinking, so what? Every market has its losers. I'll just follow the bullishness and invest in AI. And to be clear, we think that's a wise approach!
But at this point, tech has been on a tear for so long that many of the best stocks in the market are richly valued. Some have recently pulled back, but others have yet to digest their gains.
This is a time to be strategic; to wait for a good entry point into those red-hot AI stocks.
So, if you're looking to rake in the gains from a strong bull market, you could comb through hundreds of the market's best tech stocks. Add your favorites to a watchlist. Pore over the price action for each trade, and wait for the perfect buying opportunity.
But consider this: There's also a different 'hidden' bull market raging right now.
And we've found it to be the most explosive corner of the market – a corner that, on any given day, week, month, or year, accounts for more than 30% of the market's top performing stocks.
Of course, there's a catch: Investing in this particular hidden bull market can be very, very risky.
But my team and I just developed a quantitative trading model to remove the guesswork and reduce the risk from investing in this particularly explosive sector.
The Breakout Trading System
The science behind the model is rooted in ideology that some of the world's best traders use today: stage analysis.
It's a concept born from the mind of legendary trader Stan Weinstein. He outlined its principles in his 1988 book, Stan Weinstein's Secrets for Profiting in Bull and Bear Markets.
You see, people tend to freak out when the markets crumble. They buy stocks when they're at their peak and sell them when they're falling. But Weinstein's strategy gave traders the guts to overcome the emotions that trigger them to sell first and buy second.
This strategy is the basis for a new quantitative trading system designed by my team of Caltech quants. And it's focused on one thing: trading breakouts.
Our algorithmic model scans the entire U.S. stock market – more than 10,000 stocks – every single week. It identifies stocks in the early innings of massive breakouts, per the model's parameters. Our team of traders then combs through those results and picks the best breakout stocks to buy every week.
In short, the model identifies stocks on the verge of huge breakouts, and we buy the best of them.
At any given point in time, a stock is in one of four stages. It's either going up (Stage 2), going down (Stage 4), going sideways after going up (Stage 3), or going sideways after going down (Stage 1). Stocks tend to repeat those stages in numerical order. Stage-1 bases turn into Stage-2 breakouts, which become Stage-3 tops and end with Stage-4 declines (that eventually turn into Stage-1 bases again).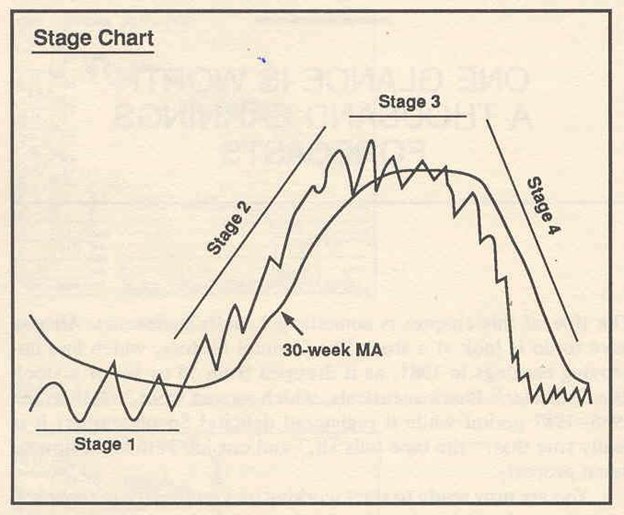 In short, our model scans the entire stock market looking for individual stocks entering Stage-2 breakouts.
It does that by defining a set of proprietary parameters that are consistent with a Stage-2 breakout. Then it runs every stock in the market through those parameters to see if the conditions are being met. If they are, we likely have a stock in a Stage-2 breakout – that could be on the cusp of soaring!
Of course, the parameters are the model's "secret sauce." I can't divulge all in their entirety here. But what I can do is give you a few clues as to what some of them are…
We're looking for:
Stocks that have been in Stage 1 for a while
Stocks that have recently swung from below to above their long-term price trend line
Breaks above long-term price trend lines to be durable and happen on big volume
A lack of overhead resistance; new uptrend channels to be clearly forming
Golden crosses and upward-sloping moving averages
Once we've found a stock that verifiably meet all those conditions, only then do we consider it a potential buy.
It's a high-quality, AI-driven quantitative system that finds stocks on the verge of short-term breakouts.
This is a system that is capable of bagging triple-digit returns no matter the bigger macroeconomic picture.
The Final Word on the 'Hidden' Bull Market
We're huge proponents of long-term investing.
We firmly believe the best way to create generational wealth in the stock market is to buy disruptive technology companies in their early stages of explosive growth. Then, let them compound, quarter after quarter, year after year. As those tiny companies turn into titans of industry, their stock prices will soar. And early shareholders will mint fortunes.
That is, unequivocally, the best way to create wealth in the stock market.
But that method takes years to play out. In the meantime, while we wait, why not generate some "side income" by trading breakout stocks in one of the best-performing corners of the market?
There's no reason not to – and that's why we've worked tirelessly to perfect this next-gen quant system. It's the perfect way to complement our long-term growth investing strategy with explosive short-term trading opportunities.
Put the two together, and boom… You have a complete toolkit to consistently make great gains in the markets.
Learn all about our new AI-driven quant trading system.
On the date of publication, Luke Lango did not have (either directly or indirectly) any positions in the securities mentioned in this article.