On Jan. 5, 2021, I identified three megatrends I believed would produce great investment opportunities in 2021.
So now that the year is drawing to a close, let's go back and revisit those influential trends.
You can read the full article that was published in January here, but for now, here's a condensed version of the three megatrends I saw leading the charge in 2021 — and how they performed this year.
2021 Trend No. 1 — The Battery Metal Boom
Beginning-of-Year Thoughts: The first major trend that could produce investment winners in 2021 is what I have been calling the "Second Electric Revolution" — the massive worldwide transition from combustion-based modes of power generation to renewable modes that feed an array of electric and battery-based technologies.
Because of this revolution, the upcoming decades will require spectacular volumes of nickel, copper, manganese, lithium and other battery metals.
Simple Strategy That Could Beat the Dow by 4X
Unlike traditional internal combustion vehicles, EVs are essentially batteries on wheels… and batteries are basically just hunks of metal.
The average plug-in electric vehicle requires about 200 pounds of copper, which is nearly four times what a midsized internal combustion vehicle requires. Depending on the exact battery chemistry, these vehicles also contain about 50 pounds of nickel, along with meaningful quantities of manganese, aluminum and/or lithium.
Day by day, these "metal hogs" are gaining in popularity and taking market share from internal combustion vehicles.
In 2018, the global electric vehicle market totaled about $40 billion. But according to Wintergreen Research, that number will soar 40-fold by 2025 to reach $1.5 trillion in annual sales — and these eye-popping projections seem to grow by the day.
But the EV industry is not the only new source of battery metal demand. Most of the world's major economies are accelerating their clean-energy plans and doing so with technologies that are increasingly metal-intensive, like energy storage.
Clean energy has become a massive business worldwide — one that measures itself in the trillions of dollars. That's why select mining stocks could shine brightly in 2021.
One prominent example is Freeport McMoRan (NYSE:FCX). Although the stock has doubled this year [i.e., in 2020], I expect it to continue moving higher in 2021. But Freeport won't be alone. Many other "battery metal" plays could dazzle investors over the next 12 months.
UPDATE: That megatrend played out exactly as expected.
The battery metal sector charged ahead throughout the year — powering Freeport stock to gains as high as 70%. Many of the other battery metal plays I recommended in my investment services — like ERAMET S.A. (OTCMKTS:ERMAY) and Nickel 28 Capital (OTCMKTS:CONXF) — delivered even larger gains.
This sector has been taking a breather during the last couple of months, but I'm expecting it to continue powering ahead in 2022.
2021 Trend No. 2 — The Worldwide 5G Rollout
Beginning-of-Year Thoughts: The burgeoning global 5G deployment should also provide some big success stories in 2021.
That's because 5G isn't simply the thing that comes after 4G. It is a uniquely powerful investment opportunity that will deliver outsized gains for many years to come.
The nascent 5G boom is a powerful megatrend that will provide a wide range of investment opportunities — beginning with constructing the actual 5G infrastructure throughout the world and then continuing with the vast range of technologies and business applications that the 5G infrastructure will enable and supercharge.
REPLAY NOW AVAILABLE: Eric Fry Just Dropped a Bombshell
Trillions of investment dollars will flow toward and through 5G infrastructure over the next several years, no matter how well or poorly the global economy is faring.
Simply stated, 5G is the newest of the make-or-break innovations that will accelerate technological advances.
No company or country can afford to ignore 5G or to lag behind in constructing and utilizing it. This new network will quickly become the essential oxygen of the coming tech-based economy … and the dollars involved will be astronomical.
UPDATE: Like the battery metal boom, the 5G megatrend also delivered a wealth of investment gains during the year.
Some of the specific 5G plays I recommended in my investment services — like Ciena (OTCMKTS:CIEN), Nokia (NYSE:NOK) and Aviat Networks (NASDAQ:AVNW) — produced gains ranging from 40% to 80%.
But I believe gains like these are just the "first fruits" of what this trend could deliver over the next few years. The 5G megatrend is still in its infancy, and I'm expecting it to produce big gains in 2022 and beyond.
2021 Trend No. 3 — "Easy Money" Makes Hard Money Shine
Beginning-of-Year Thoughts: The third and final major trend that could pay dividends in 2021 is something we call "easy money."
Not to be confused with Eddie Money, the late 1970s rock-'n'-roll star, easy money is a catch-all term to describe a condition of ample — or "excess" — liquidity in the financial system.
The term refers to the result of fiscal and monetary policies that combine to cause "excess liquidity" to course through the U.S. financial system.
Now Available: 4 Hypergrowth Stocks for 2022
Often, easy money conditions produce rising inflation, which usually produces a great, big rally in gold and other commodities. That's why the gold market may be offering one of the most promising trades of 2021.
Although gold has been slumbering for the past several months, it may be reawakening soon… thanks partly to what I show in the chart below.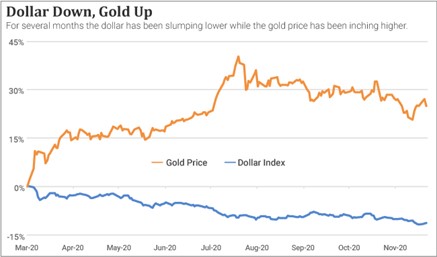 The U.S. Dollar Index (DXY) just touched a new two-year low, and its price trend is unmistakable: It is heading lower.
A weakening dollar is a typical result of easy money conditions… and is typically good news for gold.
At least that's what history tells us.
Before Jan. 1, stocks are headed…
If the dollar's downward trend gains momentum, the gold price should continue trending higher — and perhaps a lot higher.
UPDATE: Okay, so two out of three ain't bad!
Although this megatrend did blossom like I expected, gold stocks did not. Easy money policies from the Federal Reserve, combined with one of the most spectacular fiscal stimulus campaigns of all time — think "stimulus checks" — produced the highest inflation readings in three decades. And yet, the gold market merely yawned.
Notwithstanding the Fed's recent vow to fight inflation by raising interest rates three times next year and three times more in 2023, I expect inflation to continue heading higher for a while. But if the yellow metal isn't responding to the highest inflation readings in 30 years, will it respond to even higher readings?
Hard to say. For now, gold may be a better asset to wear around your neck than to put in your portfolio. I'm not counting it out completely in 2022, just not confident in its potential.
Whatever comes our way, 2022 should be an exciting and, yes, profitable year!
Regards,
Eric Fry
P.S. Louis Navellier, Luke Lango and I just created a simple strategy that could beat the markets by at least 4X or more next year. It's a simple approach that could show you 2022's best-performing and most resilient stocks, BEFORE the new year arrives. Details here.
On the date of publication, Eric Fry did not have (either directly or indirectly) any positions in the securities mentioned in this article.
Eric Fry is an award-winning stock picker with numerous "10-bagger" calls — in good markets AND bad. How? By finding potent global megatrends… before they take off. In fact, Eric has recommended 41 different 1,000%+ stock market winners in his career. Plus, he beat 650 of the world's most famous investors (including Bill Ackman and David Einhorn) in a contest. And today he's revealing his next potential 1,000% winner for free, right here.