#1 – Increase Your 401k Contribution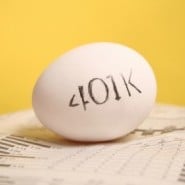 Are you getting the full "match" amount from employer's 401k plan? If not, you can change that immediately! That money instantly returns 100% because your company will match your contribution dollar for dollar. Even if your 401k investment portfolio loses 10% or so, you'll still be way ahead.
The downside is that if you need that extra money, you'll have to pay taxes and fees out the nose as a penalty for withdrawing your retirement funds early. And of course, if you're already meeting your employer's match, then this isn't quite as attractive an option — though putting more away now will certainly have benefits. The compound interest on just an extra $1,000 a year will be quite impressive after 20 or 30 years when its time to retire.
(For more information of 401k investing, read: The 7 Deadly Sins of 401k Investing.)