One Day of School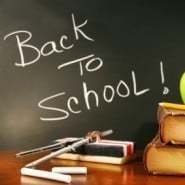 Head west to Chicago and some more unhappy workers were taking action this week. More than 1,200 teachers in Community Unit District 300 of the city went on strike Tuesday to protest large class size and unfair pay and benefits.
In this case, it was a day of learning for around 20,000 students that was lost (though the students getting a sporadic day off probably weren't complaining).
Teachers returned the next day as the union and school board finally came to agreement about class sizes and negotiated salary demands — a far quicker turnaround that the 10-day teacher strike that took place in Chicago earlier this year.
And, while we're looking at what strikes cost, there's also the other side of the coin to consider: Improved wages or conditions for workers — from burger flippers or teachers — often come in the wake of a walkout.