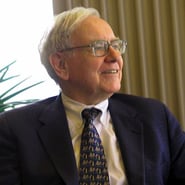 Think you have a hard time shopping for the folks on your own Christmas shopping list? At least you don't have to come up with gift ideas for Warren Buffett.
After all, what do you get for the man who has a net worth of $46 billion but still lives in the same house he bought back in 1958 and favors hamburgers and Cherry Cokes for lunch?
Simple tastes aside, Buffett, of course, can afford anything he wants. Worse yet: His company, Berkshire Hathaway (NYSE:BRK.A, BRK.B), already owns pretty much anything else you could get for him.
In addition to sizable stakes in everything from Wells Fargo (NYSE:WFC) to IBM (NYSE:IBM), Berkshire controls or owns outright more than 50 companies as subsidiaries. From chocolates to underwear to cutlery, Berkshire comprises a wide swath of potential stocking-stuffers.
So, anyone shopping for Buffett this holiday season should keep in mind that through Berkshire, he already has access to an amazing range of things, including …