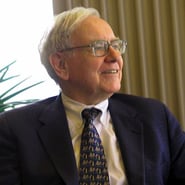 Investing guru Warren Buffett recently said he thinks Tim Cook should be pushing Apple (NASDAQ:AAPL) to buy back its stock with the company's $137 billion in cash. After all, when a stock is cheap — if you can "buy dollar bills for 80 cents," as the Berkshire Hathaway (NYSE:BRK.A, BRK.B) founder put it — and that company is flush with money, it makes sense.
Of course, Buffett recommended a similar move to Steve Jobs several years back, to no avail.
I think dividends are often the best way to spend extra cash, but when done properly, buybacks can be very rewarding for shareholders. Three company qualities that make for promising progress via buybacks include being undervalued based on historical data, being in a net cash position and, if possible, having executed good buybacks in the past (although the last one is undoubtedly subjective).
With such a checklist in mind, here are three stocks I believe are ready for a buyback: