Investors often get a sinking feeling in the pit of their stomachs when they see company insiders selling shares of their own company stock. If you are long that stock, you have to decide whether or not to let the insiders' actions influence your investment strategy.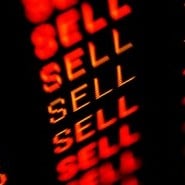 However, as I have previously detailed, insider selling often had no bearing on the future performance on those stocks. Insiders may be selling for purely personal reasons, such as buying a new home, getting a divorce, or leaving the board of directors of that company.
In addition, automatically timed and option sales are also usually insignificant. Furthermore, if only one corporate officer is selling, I give it less weight.
Finally, company insiders, just like many other investors, may prudently choose to take some profits after a big run up in the price of their stock. Stocks frequently continue higher, even after they lock in their profits.
So when I look for insider sales that are more likely to be significant, I am looking for at least several of the following:
Significant selling done without major announcements or fanfare.
A large number of corporate insiders all selling within a short period of time.
The sales are made on the open market.
The number of shares sold and subsequent dollar amounts realized are quite large.
The insider(s) has a previous history of selling near the peak of the stock's price.
Selling occurs after a large decline in the share price of the stock. This may indicate that insiders have little faith that their stock is going to rebound.
As 2013 came to its conclusion, I found 3 stocks in which the end-of-year selling appeared to be significant. That doesn't mean you should sell immediately, but you may want to plan some hedging strategies, such as selling calls with strike prices just above the current stock price, or even buying an inexpensive long-term put.
Here are three stocks with recent significant looking insider sales: