Buyout activity is back on track after years of a sleepy deal landscape. For the 12 months ended Nov. 30, a total of $995.4 billion in mergers and acquisitions were struck in the U.S., up 18% over the year-ago period. That's a trend that should only accelerate in 2014.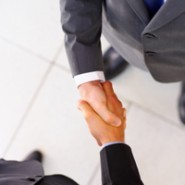 For one thing, companies are sitting on record levels of cash, and they can't spend all of it on dividends and stock buybacks. Interest rates have been rising since last summer, but debt financing is still cheap relative to historical averages. That makes companies eager to borrow cash at low rates while they still can.
Buyouts and other forms of dealmaking are a bullish sign for stocks, and usually great news for anyone holding shares in the buyout target. After all, shares in the company being acquired almost always fetch a hefty premium to market prices.
Furthermore, buyout activity often spurs even more deals, either because competitors feel like they need to get bigger in order to compete or because regulators insist on some divestiture of assets in exchange for approval, which puts even more assets into play. If for no other reason, that's why buyout activity seems to feed on itself.
There's no shortage of speculation on which companies are buyout targets in 2014, but here are three of the more prominent — and promising — names worth betting on: