In the past couple of months, I've taken a shine to preferred stock. In fact, I consider preferred stock to be one of the best value zones in the entire fixed-income universe. Lately, I've been steadily vacuuming up preferred stock for family accounts.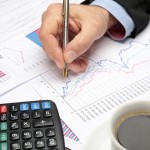 Why the enthusiasm? Two reasons:
Preferred Stock Offers Dramatically Higher Yields than Treasuries.
Any fixed-income investor with a sense of history is well aware that Treasury yields (at 2.8% on the 10-year note) are too low and destined to climb over the long term. In contrast, investment-grade preferred stock issued by banks, insurance companies and REITs are currently paying 6%–7%.
That's essentially the same yield these instruments fetched back in 2004 and 2005, when the 10-year Treasury was over 4%. As a result, today's abnormally wide spread between preferred stock and Treasuries already builds in a significant cushion against a potential rise in Treasury yields.
Preferred Stock Can Insulate You From a Stock Market Slide
I'm not going to argue that preferred stocks furnish a perfect hedge. In an epic financial crisis like that of 2008, frightened investors will abandon just about everything for the safe haven of cash.
However, I suspect that Wall Street's next bear market, when it arrives, will be a less severe, and more nuanced, affair. With their ample quarterly dividend payments (guaranteed unless the issuer omits its common-stock dividend), preferreds will likely hold their ground much better than in 2008.
Preferred prices may even rally if a skidding Dow convinces Wall Street that an economic slowdown is in the works. In that case, bond and preferred yields could actually dip for several calendar quarters. As yields fall, prices rise.
Preferred Stock Bargains in Financials and REITs
Right now, the two segments of the preferred stock market that look most appealing are financials (banks, insurers) and REITs. Each of the two groups sports a slightly different risk-reward profile. With most financial preferred stocks like the ones issued by Wells Fargo (WFC), JPMorgan Chase (JPM) or BB&T (BBT), you get a tax break: Dividends typically qualify for the reduced federal tax rate (15% for most investors).
On the other hand, financial preferreds are generally "non-cumulative." Should the issuer run into financial trouble and omit the preferred dividend, there's no requirement to make up back payments before the issuer can resume paying common dividends.
REIT preferred stocks like the Kimco Realty (KIM) Series J shares nearly always carry a cumulative feature. Because a missed dividend isn't simply dropped down the memory hole, the cumulative clause puts considerable pressure on REIT managements to keep the preferred payout current. In fact, the Kimco Realty Series J is one name that I recommend to my subscribers. It's the nation's largest operator of neighborhood and community shopping centers, and its occupancy has been well above the industry average for the past seven years. With a yield over 7% you'll be paid well from a solid outfit.
The downside: REIT preferred stocks generate ordinary income, taxable at the same rate as bond interest. Thus, I advise you to stash your REIT preferreds inside a tax-sheltered retirement account if you can.
Richard Band's Profitable Investing advisory service helps retirement savers outperform the market without losing a minute of sleep along the way. His straightforward style and low-risk value approach has won seven Best Financial Advisory awards from the Newsletter and Electronic Publishers Foundation.