PC sales have been on a downward trend, with sales declining by 10% year-over-year despite the best efforts of Microsoft (MSFT), Intel (INTC) and PC manufacturers like Hewlett-Packard (HPQ).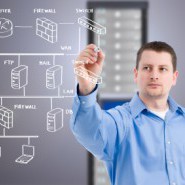 The infatuation of consumers and businesses with tablets and smartphones gets most of the blame for the decline in PC sales, while the growing popularity of inexpensive Google (GOOG) Chromebooks sure isn't helping matters.
Another factor in the fall of PC sales, though, is that PC replacement cycles have been getting longer — a trend that predates tablets and Chromebooks. One reason has been maturity; new Intel processors and Microsoft Windows releases haven't been the radical improvements they were earlier in the PC era, so customers wait longer between upgrades.
Economics has also been a factor in sliding PC sales. When the recession hit, IT departments faced budget crunches and held off replacing PCs for as long as possible. That frugality only helped cloud computing and cheaper alternatives gain an enterprise foothold.
But at CES 2014, Razer — a privately held maker of high-end gaming PCs and peripherals — unveiled a surprise computer concept called Project Christine. The machine won the "Best of PC" category at the Consumer Electronics Show 2014 and raised more buzz around a Windows box than has been heard for years.
Could Razer and Project Christine actually help to reverse the ugly fall in PC sales?