The name Warren Buffett is virtually synonymous with "expert investor." And whether you're a fan of Buffett's past political proclamations about how the rich aren't paying enough taxes (I certainly am not), I do admit that the "Oracle of Omaha" usually offers up some great homespun wisdom about how to invest your money (not just trade for the quick score). And apparently, the man likes index funds.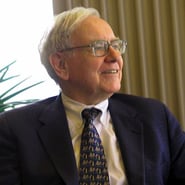 Warren Buffett recently was interviewed on CNBC, and the topic of the 2008 financial crisis came up. Buffett told CNBC's Joe Kernen that he had read a preliminary version of former Treasury Secretary Tim Geithner's soon-to-be-published memoir, and that Buffett's previous characterization of the crisis as an "economic Pearl Harbor" was an understatement. Yet in the spirit of optimism, Buffett said the recovery from the hit the U.S. took was telling, and that he believes "this country will come through anything."
So, what does an investor do who is truly optimistic about the country's resilience?
Simple: You get your money into the market in some of the best index funds out there, then sit back and let time grow your wealth.
Now, if you think this is too simplistic, think again. Writing in his Berkshire Hathaway (BRK.B) annual shareholder letter, Warren Buffett recommended non-professional investors should "own a cross-section of businesses that in aggregate are bound to do well. A low-cost S&P 500 index fund will achieve this goal."
Buffett went even further with this simple advice, writing that the advice for the trustee of his estate "could not be more simple: Put 10% of the cash in short-term government bonds and 90% in a very low-cost S&P 500 index fund. (I suggest Vanguard's.)"
With Warren Buffett's advice in mind, I decided to put my own spin on his homespun wisdom by taking a look at the five best index funds for the optimistic, long-term investor.