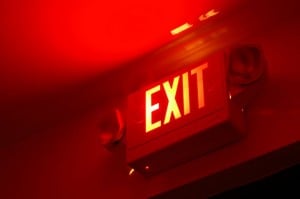 There's a common misconception that if a stock is "widely held" it is a solid business. After all, if everybody holds it, one assumes everyone has done their due diligence. But do you think the lemmings at the back of the pack have done their research, or are they just pressing forward because everyone else is — and plunging off the edge before they realize what they've done? I've got three companies that I think are terrible investments that you should sell now.
First Solar
First Solar (NASDAQ:FSLR) manufactures and sells solar modules using a thin-film semiconductor technology. It also designs, constructs and sells photovoltaic solar power systems. Solar is all the rage right now, but I have a fundamental problem with the sector. Without government subsidies, all my research indicates that solar is not worth the investment. It takes seven to 10 years before one breaks even on a solar investment.
But the other factor is this: Why take a risk on solar when oil is always going to be the go-to source of energy? All the big oil companies have billions of dollars in cash and pay solid dividends. First Solar has negative free cash flow of $370 million over the trailing 12 months. Net income will be down year-over-year and only up 7% next year. I don't see First Solar as being worth the risk.
AK Steel
AK Steel (NYSE:AKS) produces flat-rolled carbon, stainless and electrical steels, and tubular products in the United States and internationally. Steel is having a tough time. For starters, you are dealing with a volatile pricing market. The market for steel is thankfully larger than copper or aluminum, so at least there's plenty of business for steel companies. The downside is that this creates volatility and it is correlated to world economic conditions. As U.S. and European markets see demand soften, it isn't good news that supply increased 6.2% over last year.
With long-term annualized growth at only 5%, $600 million in net debt and serious cash flow problems, AK Steel is not a company I'd bet on. The company has been cash flow negative in the past three years, and it's getting worse — the company is $670 million cash flow negative during the past four quarters. Don't walk — run!
Safeway
Safeway (NYSE:SWY), the venerable grocery store, is not a place to go shopping for food or for stock investments. The grocery trend has been toward organics for the past several years, and companies like Whole Foods Market (NYSE:WFM) have been the big winners. Meanwhile, in case you've never gone shopping, companies like Target (NYSE:TGT) and 99 Cents Only Stores (NYSE:NDN) have entered the grocery arena. Big grocers like Safeway have had to introduce private label brands and increase organic offerings to stay competitive. But how do you stay competitive when you can go to Target for everything you might need, and a grocery store only provides groceries?
Now, Safeway isn't going to go out of business. It has plenty of free cash flow and the earnings are there. But I want to be invested in a business that is growing — not just doing what it can to stay competitive.
Bottom line: Don't be a lemming.
As of this writing, Lawrence Meyers did not hold a position in any of the aforementioned stocks. And he shops at Trader Joe's.