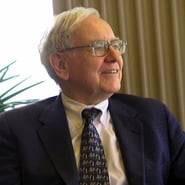 Berkshire Hathaway (NYSE:BRK.A, BRK.B) and its iconic chairman Warren Buffett are known for their shrewd long-term strategies. After all, one of Buffett's most notable quotes is, "Our favorite holding period is forever."
Of course, that doesn't stop investors from living in the moment. Each filing from Berkshire Hathaway is a very big deal as individuals from Wall Street to Main Street hunger to know what Buffett is buying.
We are sneaking up on the next Berkshire portfolio update (the last was mid-May so expect one in the next 30 days or so), but I'm going to jump the gun by focusing not on the stocks Buffett & Co. have bought more or less of. Rather, I think it's worth filtering the BRK portfolio through the lens of an income investor and finding the biggest dividend opportunities.
After all, the most notable changes in the March 31 filing were a larger position in small-cap dialysis stock DaVita (NYSE:DVA) and satellite cable provider DirecTV (NASDAQ:DTV), and a smaller position in discounter Dollar General (NYSE:DG). None of those three actually pay a penny in dividends… so income investors didn't have a lot to latch on to.
So for you dividend investors wondering what dividend stocks Buffett thinks are best, I've taken a look at the latest filings and screened for the best dividend potential. Here are the five biggest-yielding dividend stocks currently in the Berkshire Hathaway portfolio:
Gannett

Industry: Media
Berkshire Shares: 1.74 million
Yield: 5.4%
YTD Returns: 10% vs. 8% for the S&P
5 year returns: -73% vs. -13% for the S&P
The risks of print media in a digital age are clear, and the ugly five-year return of USA Today publisher Gannett (NYSE:GCI) says it all. But Warren Buffett and Berkshire Hathaway have been making headlines lately for big buys in the newspaper industry, apparently banking on a rebirth in these picks — including maintaining a big stake in Gannett.
Though share performance is admittedly are sketchy, Gannett's dividend focus is clear. GCI just pushed its dividend up 500% in roughly a year! GCI stock was paying a mere 4 cents per quarter in July 2011, then upped its dividend to 8 cents in October and finally to 20 cents a quarter starting this spring. That's good for a phenomenal 6.5% dividend yield at current valuations.
Also worth noting: Gannett dividends have been in force since 1929, so this is a company with a long history of paying back shareholders. (For further reading, InvestorPlace.com writer Tom Taulli recently stuck his neck out with 3 reasons Gannett is a buy.)
GlaxoSmithKline


Industry: Pharmaceuticals
Berkshire Shares: 1.51 million shares
Yield: 5.0%
YTD Returns: -1% vs. 8% for the S&P
5 year returns: -14% vs. -13% for the S&P
U.K. drugmaker GlaxoSmithKline (NYSE:GSK) just made a big splash with the buyout of Human Genome Sciences (NASDAQ:HGSI) for $3.6 billion. That could yield benefits in the long term with an addition to the product pipeline — and may help this Berkshire stock turnaround its rather disappointing track record when it comes to stock performance.
Of course, beyond share price there's the yield — and Big Pharma means big dividends. Though GSK isn't consistent as domestic pharmaceuticals when it comes to distributions, the last four quarterly payouts range between 52 cents and 82 cents a share. Add up the last four consecutive payments, and you get $2.43 cents annually for a hefty 5.0% yield.
If you want to be conservative, however, four quarters at the lowest payment of 52 cents gets you to $2.08 annually — which isn't as rosy, but still an impressive 4.6% yield.
Sanofi


Industry: Pharmaceuticals
Berkshire Shares: 4.06 million shares
Yield: 3.8%
YTD Returns: 2% vs. 8% for the S&P
5 year returns: -12% vs. -13% for the S&P
Sanofi Aventis (NYSE:SNY) is a lesser-known healthcare play, but another dividend-paying giant in the Berkshire portfolio. Like GSK, Sanofi is a foreign drugmaker and thus has a less reliable dividend policy.
In fact, this company pays annual dividends instead of quarterly ones. SNY paid a regular dividend $1.43 in May for a yield of 3.8% on current shares. That's a good yield — but it's worth noting the payday won't come around again for roughly 10 months, so take that into account.
But the kicker this year was an additional special dividend of$1.48 a share on top of the regular payment. That brings the nominal yield to 7.8% annualized, though it's admittedly a stretch to imagine that payout sticking for good.
Johnson & Johnson


Industry: Consumer Health
Berkshire Shares: 29 million shares
Yield: 3.6%
YTD Returns: 4% vs. 8% for the S&P
5 year returns: 8% vs. -13% for the S&P
Johnson & Johnson (NYSE:JNJ) is one of the biggest holdings in the entire Berkshire Hathaway portfolio. While many other health care stocks are in the lineup, the 29 million shares of J&J add up to a position of roughly $1.8 billion dollars.
Unlike the aforementioned GSK, however, J&J is a health care company focused on consumers and drug stores as much as doctors and hospitals. That's because J&J is behind big brands including Tylenol and Band-Aids, just to name a few polestars of its consumer health division. Reliable sales from these products adds up to a healthy yield of 3.6% at current valuations.
Dividends have been paid since 1944, and a dividend increase announced just a few weeks ago proves Johnson & Johnson cares about keeping income-oriented investors happy.
General Electric


Industry: Industrials
Berkshire Shares: 7.77 million shares
Yield: 3.5%
YTD Returns: 10% vs. 8% for the S&P
5 year returns: -50% vs. -13% for the S&P
General Electric (NYSE:GE) burned a lot of dividend investors back in 2009 when it slashed its payout 68%, from 31 cents to just 10 cents a quarter. But while payments are not what they once were, GE has steadily increased its payouts and currently is dishing out dividends of 17 cents a quarter — good for a 3.5% yield right now.
General Electric is a diversified industrial company with health care, infrastructure and aviation businesses. But what's really encouraging for income investors right now is the fact that its GE Capital arm has finally won approval to start delivering dividends back to shareholders. This could mean even more income potential in shareholders' future.
Other Buffett Dividend Stocks of Note
Conoco Phillips (NYSE:COP): Berkshire owned 29.1 million shares as of March 31, and the stock yields about 3.3%. That's presuming the 20-cent dividend from the newly spun-off Phillips 66 (NYSE:PSX) refining business is backed out of the previous 66-cent payments from COP stock.
General Dynamics (NYSE:GD): Berkshire owned 3.88 million shares as of March 31, and the stock yields 3.2%
Intel (NASDAQ:INTC): Berkshire owned 7.8 million shares as of March 31, and it has a yield of 3.3%.
Procter & Gamble (NYSE:PG): Berkshire owned a huge 76.7 million shares as of March 31, and there's a yield of 3.5% — actually 3.45% at current writing, to be precise, which means GE barely edged it out for the #5 spot.
M&T Bank (NYSE:MTB): Berkshire owned about 5.4 million shares as of March 31, and the stock yields 3.3%.
Jeff Reeves is the editor of InvestorPlace.com and the author of "The Frugal Investor's Guide to Finding Great Stocks." Write him at editor@investorplace.com or follow him on Twitter via @JeffReevesIP.