"Don't try to buy at the bottom and sell at the top. It can't be done, except by liars." – Bernard Baruch
I've been warning investors that the stock market may be in for a rough patch, and we got a taste of that this week. On Thursday, the stock market finally snapped its five-day losing skid. Once again, the problems stem from Europe.
I know it sounds like a broken record but the economics of that continent seem terminally dysfunctional. There have been anti-austerity riots this week in Spain and Greece. Investors are beginning to realize that even if the euro survives, there will be a severe recession in Europe, and there's a continent-wide rebellion against austerity policies.
In this week's CWS Market Review, I want to take a closer at the economy and show you the best ways to protect yourself during the weeks ahead. The good news is that the worst of the euro crisis has already passed, but the road to recovery won't be easy. Remember that the U.S. stock market bottomed out six months after Lehman Brothers (PINK:LEHMQ) went bankrupt.
The third quarter officially ends on Sunday, and we'll soon get a look at Q3 earnings reports. Earnings season is Judgment Day for Wall Street; the good will be rewarded and the bad will be severely punished. I expect that our stocks on the Buy List will again demonstrate their superior attributes. Before we get to that, let's dig into the surprising comeback of U.S. consumers.
U.S. Consumers Are Finally Waking Up
Putting Europe aside, not all the economic news has been dire. In fact, there's been more evidence that U.S. consumers are finally waking up from their looong hibernation. This week, the Conference Board said that consumer confidence rose to a seven-month high. I was impressed to see that the expectations index rose as well.
This confirms previous evidence that there's some emergent optimism in the air. Earlier this month, for example, Monster Worldwide (NYSE:MWW), the job search website, said that there was an increase in online labor demand in August. And on Thursday, the Labor Department said that new claims for unemployment benefits dropped by 28,000 (though this number tends to bounce around a lot).
So what's behind the new-found optimism of U.S. consumers? The main reason boils down to one word — housing. Economic recoveries in the U.S. have typically, but not always, been led by the housing sector. If you think about it, this makes a lot of sense. Not only is housing a major expense for consumers, but it also spills over into several other industries from retail (think Bed Bath & Beyond (NYSE:BBBY)) to construction, transportation and finance.
The problem with this past recession is that we had so much overbuilding during the good times, that were was no need to build more homes. The homes built during the bubble weren't going to disappear, so it's taken us five years to work off the excess inventory. Only now are we getting the first clues that home prices are rising again.
The CEO of Lennar (NYSE:LEN) recently said, "the housing market has stabilized, and the recovery is well underway." Let's hope so because higher home values cause a "wealth effect" which makes consumers happier and more willing to spend.
I'll show you an example. Check out this chart. It shows the Homebuilders ETF (NYSE:HXB) in black along with the Retailers ETF (NYSE:XRT) in gold.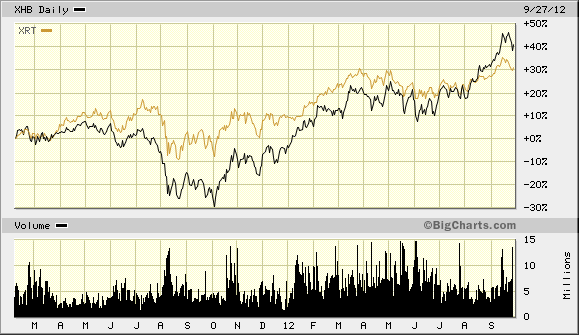 As you can see, the two ETFs have risen together. I'd say that they're both lifting each other up. Homebuilders have done better because that sector had suffered more damage. I don't think this trend will let up soon. A recent survey of retailers indicates that many plan to hire more holiday workers this year. Toys R Us just said they plan to hire 45,000 employees for this holiday season. Both Walmart (NYSE:WMT) and Kohl's (NYSE:KSS) plan to add 50,000 workers for the holidays.
In the near-term, Wall Street will be focused on events in Europe and the election battle in America. Those events will most likely lead to greater volatility and a soggy market for stocks. The Spanish ETF (NYSE:EWP) recently gained 50% in just 52 days so some give back is probably due. But once the market gets past that, the signs are pointing to a strong year-end rally. Until that happens, investors need to play it safe.