"Lost in a gloom of uninspired research." — William Wordsworth
As soon as I started joking about the stock market's slumber party, we should have known something was up. In last week's CWS Market Review, I said that trading had become dead boring; intraday volatility had fallen to a 26-year low. Sure enough, the bears woke up from their hibernation this week and feasted on freshly grilled bull.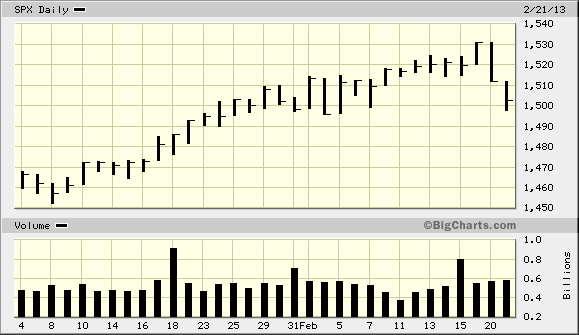 On Wednesday, the S&P 500 dropped 19 points—its biggest drop this year. The selling continued on Thursday, when the index lost another 9.53 points and briefly dropped below the crucial 1,500 barrier. In just two days, the S&P 500 shed more than $250 billion.
No, the Fed's Bond Buying Isn't about to End
So what went wrong? As is often the case, we can turn our eyes towards the Federal Reserve. On Wednesday, the central bank released the minutes from their late-January meeting. You think the jargon-packed minutes of a meeting of economists can't evoke excitement? Well, welcome to Planet Wall Street, my friend.
What happened is that several members of the policy committee said the Fed should alter the size of its bond purchases in response to the economy. In other words, some of Bernanke's posse are talking about pulling back on all the bond buying they've been doing.
It's not exactly a state secret that Wall Street loves Quantitative Easing. In the Street's eyes, the more the better, and that's certainly been a major factor in causing the S&P 500 to double in less than four years. So once there was any hint that it might come to an end, the bears rushed in to take charge.
Here's what we know:
Fact one: The Fed is buying tons of bonds to prop the economy. Fact two: To borrow from LTC Kilgore, someday this policy is going to end. What we don't know is when. All the Fed has said is that there should be "substantial" improvement in the labor market. While there's been some improvement in the labor market, in my opinion, we're still a long, long, loooong way from calling it substantial. As far as 0% interest rates go, the Fed has said that it's pledged to that as long as unemployment is above 6.5% and inflation is below 2.5%. That's at least a year away. Probably more.
What the minutes told us is that there are some voices within the Fed talking about a QE Exit Strategy. This really shouldn't be a surprise. Instead of a sudden halt, they're considering scaling back some of the purchases. Let me make something clear, something which has been overlooked: There was nothing in the Fed minutes about ending QE.
Here's my take: The Fed minutes weren't a reason to sell. Instead, they were a reason for people who had already been looking for a reason to sell to sell. Given that the S&P 500 has climbed for seven weeks in a row, I certainly understand that there are folks looking to clear out some positions.
Here's the odd part: The Fed minutes were basically a dumb reason to make some smart moves. There's no reason to fear that the Fed is going to pull the rug out from under the economy. But there is a good reason for investors to expect a modest pullback, which I've talked about for a few weeks. Earnings expectations are probably too high. I've also been disturbed by the fact that the low-quality stocks are leading the rally. This isn't so troubling for us, since we concentrate on high-quality names, but our Buy List has lagged the broader market this month. That tends to happen when the market gets ahead of itself.
There's really nothing in the Fed's minutes that anyone should find surprising, at least anyone who's been paying attention. As far as inflation goes, that's not a worry at all. Last week's CPI report was very tame. In fact, there's some emerging evidence that spiraling healthcare costs might finally be coming under control. Of course, the irony of the Fed minutes is that they're talking about reining in QE because the economy is doing well (or at least better).
The key to watch is employment. That's part of the Fed's dual mandate, and the part that Congress is most interested in. The unemployment rate is currently at 7.9%, and that's not counting the folks who have stopped looking for work. I'd say that the jobless rate would have to fall to 7% before they entertained the idea of cutting back on Quantitative Easing. Not ending it, mind you, but just trimming its sails. For now, the Fed is on the side of higher stock prices.
What Would Reduced QE Mean for Investors?
Let's look ahead and talk about what will happen when the Fed finally takes away the punchbowl. The biggest impact would be in the gold market, and we got a preview of that last week. A drop in gold makes sense because we're talking about higher real interest rates. The higher interest rates go above inflation, the worse it is for gold.
Interest rates have been close to or below inflation for years, and that's been great for gold. However, the yellow metal hasn't made a new high in nearly 18 months. Gold is down more than $200 an ounce since October, and it recently fell for five days in a row, including a $40 plunge on Wednesday. Like I said, it's going to be a while before the Fed starts raising interest rates, but once it does, it won't be pretty for gold.
Reduced QE would also be a big negative for cyclical stocks. The Morgan Stanley Cyclical Index (NYSE:CYC) did much worse than the rest of the market on Wednesday. The CYC has now trailed the market for four days in a row. The Homebuilder ETF (NYSE:XHB), a classic cyclical sector, dropped more than 4.4% on Wednesday.
On our Buy List, cyclicals like Ford (NYSE:F) got smacked around. Shares of Ford are now down to $12.39, which, I should add, is an excellent deal. Ford currently yields 3.2%, which is roughly 3.2% more than Bernanke.
Another victim of the Fed's minutes was obviously low volatility. On Tuesday, the Volatility Index (NYSE:VIX) reached a six-year intra-day low. From Tuesday's close to Thursday's close, the VIX jumped more than 23%. Not bad for two days' work. Of course, this is an increase from very, very low to very low. Interestingly, the folks in the futures pits aren't convinced that volatility is on its way back. I think they're right. QE will be around for a while, and so will low volatility.