Parent aren't looking to spend as much this year on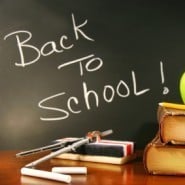 school supplies.
According to a survey done by the National Retail Federation, families with children that will be attending school this fall, only plan to spend an average of $634.78. This is down from last year's $688.62, and puts the estimated total amount spent this year at $26.7 billion.
"The good news is that consumers are spending, but they are doing so with cost and practicality in mind," Matthew Shay, NRF President and CEO, said in a statement. "It's important to note, however, that spending levels are still well above where they were a few years ago."
College students and their parents are trimming down this year as well. Families are expected to spend on average $836.83 for college supplies this year. Last year families preparing for college spent an average of $907.22. This year's total spending on college supplies is estimated at $45.8 billion, reports National Retailers Association.
Walmart (WMT) is preparing for the decline by offering low prices all through the back-to-school buying period, as compared to some retailers that use a strategy of raising and lowering prices during back-to-school shopping periods. The company will offer over 250 items all priced below $1 in an effort to attract shoppers.