Two of the stocks I follow Oracle (ORCL) and FactSet (FDS) have reporting quarters that end in November, and both of them will report earnings next week. FactSet is due to release its fiscal Q1 earnings report on Tuesday, December 17th, and Oracle follows the next day with its fiscal Q2 earnings report.
I want to take some time to update where these two stocks stand headed into the reports.
Let's start with FactSet, which has been a solid performer this year. The stock, which makes software that tracks all the geeky financial data that Wall Street loves to play around with, is up 30% this year. Six months ago, FactSet merely "met" Wall Street's consensus, and you can probably guess what happened. Traders panicked. The stock dropped. After a bit, the stock quietly rallied to a new high.
Then three months ago, FactSet had an earnings "miss." Well, technically it was a miss, since it was one whole penny below Wall Street's consensus—never mind that it was well within FactSet's own guidance for the quarter. But because it was a miss, the shares dropped. Like clockwork, the stock settled down and again quietly rallied to another all-time high. FDS came close to making another new high recently, even though the broader market was retreating.
Now let's get into some numbers. When looking at FactSet, the important metric to watch is ASV, which is annual subscription value. The ASV for last quarter rose by 6%, which is a good number. For the upcoming earnings report, FactSet said they expect to see revenues between $222 and $225 million and earnings between $1.21 and $1.24 per share. That's strong growth. For comparison, FDS earned $1.11 in last year's fiscal Q1.
Here's the bottom line: Business is going well for FactSet. It's still early, but I think the company can churn out $5 per share this fiscal year (which ends in August). This is a steady winner.
Oracle is due to report its earnings on Wednesday, December 18. On Monday, ORCL hit a nine-month high, but it suddenly got chopped down later this week. On Thursday, two Wall Street firms, Morgan Stanley and RBC, downgraded Oracle. Both analysts think the valuation is too high, which I think is nuts. But one of the analysts cited concerns about cloud computing, which I think is a valid concern but probably overstated.
I have to admit that Oracle had been frustrating for much of this year. Their new software sales, in particular, have been disappointing. But I've learned to never count Larry Ellison out. If there's one lesson I've learned in life, it's that businessmen who own their own Hawaiian island probably know what they're doing. Just a rule of thumb there.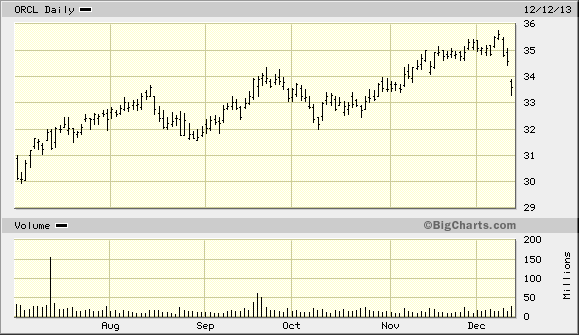 Oracle's last earnings report was pretty good. Whenever I look at an earnings report, I like to dig in to see the numbers below the surface. One key metric is free cash flow, and for Oracle that was a cool $6 billion last quarter, and about half of that went to share buybacks. Actually, the earnings would have been even better this time if it weren't for those meddling currency effects. I was also pleased to see Oracle double its dividend in June. That's always a strong sign of confidence from management.
Three months ago, Oracle told us to expect Q2 earnings to range between 64 and 69 cents per share. They should be able to top that, but I'm curious to see what guidance they'll offer for fiscal Q3. I suspect Oracle enjoys low-balling Wall Street.
For this fiscal year, I think Oracle has a chance to earn as much as $3 per share, which means the stock is going for about 11 times forward earnings. That's a good deal. Don't let this week's downdraft rattle you.