Warren Buffett stocks always garner a great deal of attention, but if investing was as simple as copycatting the Oracle of Omaha … well, we'd all be rich.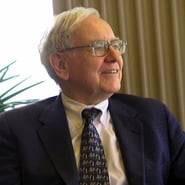 Every three months, institutional investors with at least $100 million in assets — things like hedge funds, pension funds and insurance companies — have to disclose their holdings in a filing made with the Securities and Exchange Commission. Known as a 13F, the forms get poured over by to see which stocks everyone from George Soros to Warren Buffett are buying and selling.
Warren Buffett stocks — or stocks Buffett is bullish on — get a shot in the arm when Berkshire Hathaway (BRK.A) (BRK.B) initiates or adds to a position. Joining the list of Warren Buffett stocks last quarter were Goldman Sachs (GS) and Liberty Global (LBTYA), as Berkshire took new positions in those securities.
On the flip side, Warren Buffet stocks that Berkshire pares back on or exits find themselves subject to bearish scrutiny. For example, Berkshire Hathway sold its entire stake in British pharmaceutical giant GlaxoSmithKline (GSK) and satellite TV operator Dish Network (DISH) in the most recent quarter.
True, 13Fs help investors gain insights into what Wall Street's billionaires think about individual stocks, and even the broader stock market. Warren Buffett is considered to be the world's greatest living investor — maybe the best of all time — so Warren Buffett stocks are always going to see buying and selling by investors following Buffett's lead.
But remember: Warren Buffett stocks are not a roadmap for what to do with your own holdings.
What 13Fs Don't Tell You
The thing is, 13Fs aren't really very helpful for individual investors, because so much critical information is left out. For one thing, these regulatory filings are six weeks old by the time they see the light of day. That's eons to some hedge funds.
More importantly, a 13F doesn't tell you why a fund bought or sold a security. Did George Soros sour on stocks during the last quarter when he upped his bearish bet on the S&P 500 to $1.3 billion from $470 million? Or is it just a hedge? The filing doesn't tell you.
Most critically, 13F filings don't tell you at what price a fund bought or sold its positions — and that's the most important criteria for Warren Buffett stocks.
That said, 13Fs are by no means useless — especially when it comes to conviction holds. Warren Buffett says his preferred holding period is "forever." He's the ultimate buy-and-hold value investor, and he's made the billions to prove that patience pays off.
Warren Buffett Stocks: A Who's Who of Blue Chips
Whatever bumps and bruises certain blue chips might suffer in the shorter term, it's a huge vote of confidence when Warren Buffett holds on to them quarter after quarter, year after year. Wells Fargo (WFC), for example, has been wheezing along lately. WFC stock is off about 0.5% over the last month.
But when you see that WFC stock is still Warren Buffett's single biggest stake at nearly $20 billion, you're reminded to maintain long horizons.
The same goes for Coca-Cola (KO). Shares in KO stock tumbled Monday after the beverage giant reported disappointing quarterly earnings. But if you're a buy-and-hold investor, maybe it's time to buy more KO stock at this lower price. After all, Warren Buffett's Berkshire Hathaway has a stake worth $15 billion in KO stock.
Indeed, Warren Buffett's top holdings are almost a who's who of blue chips and components of the Dow Jones Industrial Average. In addition to WFC stock and KO stock, the top 10 Warren Buffett stocks include International Business Machines (IBM), American Express (AXP), Procter & Gamble (PG), Wal-Mart (WMT) and ExxonMobil (XOM).
If Warren Buffett's 13F tells us anything, it's that he sticks with far more bets than he punts, and he remains as bullish as ever on the U.S.A.
As of this writing, Dan Burrows did not hold a position in any of the aforementioned securities.