Is another surge in stock market fear and volatility ahead? Will you be ready when it happens?
"Public psychology is the most important single factor in shaping security markets," said Gerald Loeb.
Loeb was right and that's why we make it a regular habit at ETFguide to track movements and trading opportunities in the CBOE S&P 500 Volatility Index (VIX).
While there are thousands of financial indicators, the VIX (VXX) gives us a compact view of the public's psychology toward stocks. When the VIX is depressed, the crowd's fear of stocks (IVV) is low. Conversely, when the VIX spikes upward, stock market fear spikes too.
VIDEO: Do stocks need to be overvalued to severely correct?
What is the VIX (TVIX) telling us right now?
The accompany chart illustrates a year-long trend we've shared with and discussed extensively with our subscribers. It shows how the bursts in stock market volatility (VIXY) have occurred roughly every 2-3 months over the past year.
You'll also note how VIX has quietly trended almost 13% higher over the past year.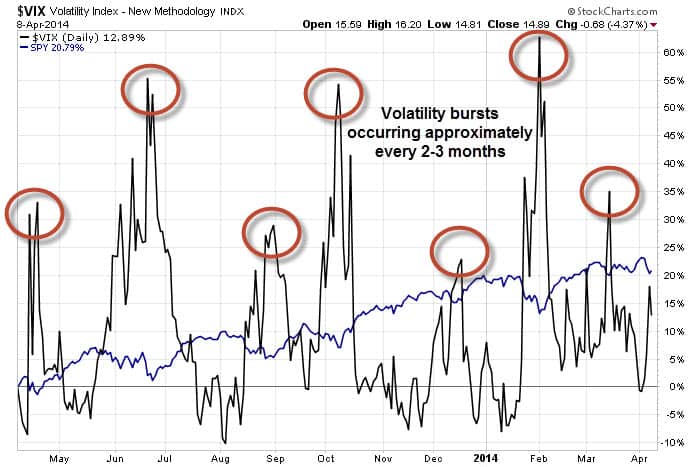 Ahead of these volatility bursts, we've been careful about picking our spots to be long VIX (VIIX).
One Feb. 13, when VIX traded around 14, we said via our Weekly ETF Picks:
"VIX has now fallen 32% toward 14. If the rise to 21 was fast and furious, that means the next VIX pop will likely be the same and we want to be ready. We're buying the VIX (expiration and strike price reserved for subscribers) call options at $280."
A month after our VIX buy alert, the VIX surged 26% toward 18 and we were able to record a double digit gain.
In the end, cashing in from volatility is all about being long VIX before the volatility happens – not after.
Or as Loeb said: "To make money in the stock market you either have to be ahead of the crowd or very sure they are going in the same direction for some time to come."
The ETF Profit Strategy Newsletter uses technical and fundamental analysis along with market history and common sense to keep investors on the right side of the market. We cover gold along with other major asset classes like stocks, bonds, and currencies. In 2013, 70% of our weekly ETF picks were winners.
Follow us on Twittter @ ETFguide