Billionaire investment managers bought and sold a lot of stock last quarter, but investors looking to copycat some daring and unexpected moves … well, they'll be disappointed.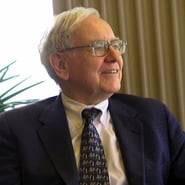 Regulatory filings disclosing holdings — called 13Fs — by everyone from Warren Buffett to George Soros were largely a snooze.
Once every three months, the really big investors have to file a record of their holdings with the Securities and Exchange Commission. Naturally, that gains a lot of attention. After all, everyone wants to know what Warren Buffett has bought and sold.
But the latest round of these 13Fs revealed a lot of tinkering at the edges rather than bold new bets or thumbs-down sellouts.
Still, to help put your head in the minds of the so-called "smart money," here's a look at the highlights from some of the biggest billionaires playing the market.
Warren Buffett 13F Highlights
Warren Buffett's Berkshire Hathaway (BRK.B) added to its media investments by adding a small stake in cable company Charter Communications (CHTR). CHTR stock rose 1% Friday in an up market, so make of that what you will. Berkshire Hathaway now owns 2.3 million shares of the cable operator worth about $366 million.
In other minor moves, Warren Buffett's Berkshire Hathaway bought more shares in Verizon (VZ) and Liberty Media (LMCA), and sold part of its stake in DirecTV (DTV).
Carl Icahn 13F Highlights
Everyone's favorite corporate raider — er, activist investor — also added to his media holdings. Carl Icahn, chairman of Icahn Enterprises (IEP) disclosed a new position in Gannett (GCI).
The amusing part there is that Icahn intended to push the company to split its broadcasting and print businesses, but Gannett beat him to the punch, announcing the move before Icahn had a chance to talk with management.
Elsewhere, Carl Icahn added to his holdings of Apple (AAPL) — buying 45 million shares for about $855 million — and upped his stake in eBay (EBAY), with whom he made peace (for now) after a bitter proxy fight in the spring. IEP also sold a small part of its Netflix (NFLX) holdings, while its Herbalife (HLF) holdings remained unchanged.
David Einhorn 13F Highlights
Like Carl Icahn, billionaire hedge fund manager David Einhorn bought more AAPL, adding more than 9.4 million shares worth $878 million. In media moves, Einhorn's Greenlight Capital bought a stake in newly public Time Inc. (TIME), the magazine company split off from Time Warner (TWX). The hedge fund also initiated a position in AerCap Holdings (AER), a company in the Netherlands that finances and leases commercial aircraft.
On the other side of the trading books, Einhorn sold 50% of his stake in Anadarko Petroleum (APC), and exited positions in Micron (MU), Nokia (NOK) and Rite Aid (RAD).
John Paulson 13F Highlights
Billionaire hedge fund manager John Paulson rose to fame with his epic big short on the housing market, but there was nothing so dramatic last quarter. The hedge fund, which specializes in merger arbitrage, bought new stakes in DirecTV and Covidien (COV). DirectTV is being acquired by AT&T (T), while Covidien is selling itself to Medtronic (MDT) for tax purposes.
Interestingly, John Paulson cut his stake in Valeant (VRX) and upped his holdings in Allergan (AGN). Paulson & Co. supports Allergan's hostile takeover of Valeant. The hedge fund sold off positions in General Motors (GM) and American Airlines (AAL).
George Soros 13F Highlights
George Soros likes to make big, bold bets, but retail investors would be wise to leave this one to the hedge fund billionaire. Soros Fund Management more than doubled its stake in YPF (YPF), the state-oil company nationalized by the government of Argentina a couple of years ago.
The integrated oil major is well-regarded by analysts and has struck three shale finds in the last four years, but Argentina's default, currency instability and flight from securities there makes this one a tricky investment.
Among other moves, George Soros sold off stakes in Emulex (ELX) — an Internet network solutions company — and Turquoise Hill Resources (TRQ), the copper and gold miner formerly known as Ivanhoe Mines.
As of this writing, Dan Burrows did not hold a position in any of the aforementioned securities.