Warren Buffett bought stocks during Wednesday's market plunge, but that doesn't signal anything more than Warren Buffett being Warren Buffett.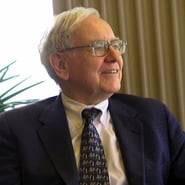 Buying in a down market doesn't mean Warren Buffett thinks stocks have bottomed or there's no reason to worry about a market correction or bear market. Warren Buffett doesn't think that way.
For one thing, that would imply that Buffett was trying to time the market. Under no circumstances would the Oracle of Omaha ever try to do that. He's always said that people who try to time the market are fools.
So, no, Warren Buffett didn't go shopping on behalf of Berkshire Hathaway (BRK.B) because he thinks stocks are done going down. He will be the first to say he doesn't know what stocks are going to do tomorrow, next week or next year. Warren Buffett doesn't worry or care about such short-term outcomes.
Up or down in the short or even medium term is meaningless. Of course stock prices will ebb and flow — that's what markets do. Buffett only cares about the long game — which, for him, stretches out to forever — and on that scale he's an eternal optimist. Over decades, U.S. stock will be higher tomorrow than they are today. Buffett likes to point out that the Dow Jones Industrial Average was below 100 in his lifetime. Buy and hold long enough and you'll make money with stocks.
Warren Buffett: Price Is What You Pay, Value Is What You Get
As for why Warren Buffett bought yesterday when so many participants were selling and fretting about a market correction or beat market, it's because he liked the prices he could get. We don't know what he bought or what prices he paid, only that he thought he was getting a good deal. These stocks must have offered a discount to the companies' long-term intrinsic value, in Buffett's view.
That's all it means. Warren Buffett likes to buy stocks when they're lower, not higher. (But low, sell high, remember?) Select names were low enough yesterday to make them worth picking up. That doesn't mean Buffett think's they've bottomed out.
Again — he doesn't care about that. That's market timing. He only knows that because they're trading at a discount, those stocks will be worth more in the future than they are today.
Besides, if you thought Warren Buffett's moves on Wednesday make for some sort of all-clear signal, you didn't pay attention during the last market crash. Buffett said many times during while the market crash was underway that he was buying stocks. That's not because he thought the bottom had been found (market timing), but because they were cheaper. Stocks kept getting cheaper, so he kept buying them.
At this point, if anything, Warren Buffett wants stocks to get even cheaper. He's not afraid of a market correction or bear market. He welcomes them because they offer a buying opportunity. Buffett never complains when markets are selling off. He only complains when they're screaming higher and he can't find anything worth buying at those higher prices.
If you want to invest like Warren Buffett, the takeaway is clear: Buy when stocks are cheaper. A selloff, market correction, crash or bear market is a buying opportunity. It's not the time to sell.
More from InvestorPlace
As of this writing, Dan Burrows did not hold a position in any of the aforementioned securities.