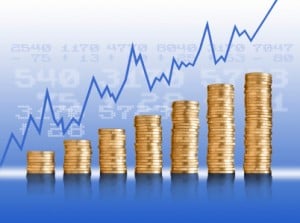 Throughout the holiday season, many merchants offer a free gift with your purchase. After all, giving the perfect gift to that special someone is even sweeter if you take home an extra bonus for yourself!
Dividend stocks are a little like that for value investors, particularly if you're looking for income and you are at or nearing retirement.
But therein lies the challenge: many of the most reliable dividend stocks are in mature industries like utilities — and for the past couple of years, investors have gobbled up these dull darlings to protect their portfolios from economic uncertainty and driven valuations for the sector higher.
There has been a trade-off for stability, safety and high yield as many of these stocks are overbought now. Consider one key metric for weighing stocks' valuations — the price to earnings growth (PEG) ratio. If a stock has a PEG ratio of 1 it is considered to be valued about right; less than 1 is considered undervalued and more than 1 is considered overvalued.
Many of the most reliable — and highest yielding — dividend stocks have PEG ratios above 1 — and big names like AT&T (T), Kimberly-Clark Corp. (KMB), Dominion Resources (D) and Procter & Gamble (PG) have PEG ratios above 2.5. Consolidated Edison's (ED) PEG ratio is a whopping 7.05.
So where can investors turn with overvalued dividend stocks like these at risks of a crash in 2015 should things go south?
In the interest of having our fruitcake and eating it too, we ferreted out three stocks with sub-1 PEGs and dividend yields of at least 3%.
General Motors (GM)
Current Dividend Yield: 3.8%
PEG Ratio: 0.87
It's no secret that GM has had a tough year – from the massive recall of some 30 million of vehicles to Congressional and regulatory probes about what GM executives knew about a faulty ignition switch defect that were linked to 42 death and 58 injuries. Disruptions in Europe and Russia also have weighed on earnings.
That said, GM rocked its U.S. sales last month with nearly 226,000 vehicles — 7% higher than the same month a year ago and GM's best November sales since 2007. Some serious headwinds remain: the automaker faces more than 170 lawsuits seeking $10 billion from the "new" GM that emerged after the company's 2009 bankruptcy filing.
Still, GM is continuing to sell cars – and low gas prices are fueling growth – both trends bode well for GM over the longer term.
American Railcar Industries (ARII)
Current Dividend Yield: 3.1%
PEG Ratio: 0.72
At first glance, a 150-year-old manufacturer of freight railcars looks like a particularly stodgy stock – but freight railroads' volume growth in transport of shale oil and related products is driving the need for new railcars.
In the aftermath of a catastrophic derailment of a freight train transporting oil in Canada 18 months ago, the railroad industry is under the gun to replace weaker, so-called DOT-111 railcars that are most vulnerable to puncture when accidents occur.
That creates a market opportunity for ARII, which also does railcar repair and provides fleet management services. ARII shares have dropped over 30% in the past three months, in part due to fears over falling oil prices. But given the strong backlog on railcar orders, ARII stock looks likely to rebound in 2015.
Daktronics (DAKT)
Current Dividend Yield: 3.3%
PEG Ratio: 0.98 PEG
Often, technology stocks in a tightly focused niche can have a greater potential for growth than more diversified offerings. DAKT is worth considering because it fits that description perfectly. It is part of the so-called computer-based systems industry and focuses on manufacturing and selling a wide array of electronic display systems like scoreboards and electronic systems from advertising to road maintenance.
Perhaps Daktronics is best known for high-profile sports projects – including the installation this summer of two massive, state-of-the art end-zone displays in FirstEnergy Stadium – the home of the NFL's Cleveland Browns. DAKT shares are down about 4% in the past three months, mostly due to analyst downgrades. That said, the company's extensive investment in its Live Events unit should help fuel earnings in 2015.
Bottom Line: If you're an income investor at or near retirement, dividend stocks should be a valuable part of your portfolios. The double benefit of relative stability and reliable payments that can be reinvested is like a free gift with purchase. But don't chase dividends at any price – instead check out dividend stocks that look a little undervalued now.
As of this writing, Susan J. Aluise did not hold a position in any of the aforementioned securities.