A new year is upon us. Why not make 2015 the year you get ahead, financially and personally?
While many Americans remain stuck in a pessimistic rut carved out by the Great Recession, others are taking a more positive approach: abandoning old, unhealthy habits and cultivating new disciplines that allow a person to seize the ample opportunities in today's post-crisis economy.
My wish for you is that you'll achieve success — as well as satisfaction — in the year ahead by ringing out the old and ringing in the new. In that spirit, here are five New Year's resolutions I've drawn up for investors seeking greater prosperity in 2015.
5 New Year's Resolutions for Your 2015 Finances: Set Goals
Not everybody is wired to be a detail-oriented person, particularly when it comes to detailed financial plans. But that's not necessary.
I suggest pulling out a scrap of paper (or a notepad on your smartphone!) and writing down just three or four briefly stated financial goals for the coming year.
Your goals may have to do with savings, household expenses or the investment vehicles and advisors you want to work with in the new year. Or you may have a bigger goal in mind. Are you thinking of a career change? Further education, training or professional qualification? A business start-up or expansion? Moving your residence? Retirement?
Put the goal in writing to remind yourself and keep yourself accountable.
5 New Year's Resolutions for Your 2015 Finances: Get into the Savings Habit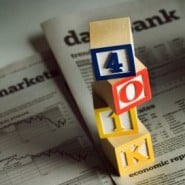 Perhaps the most significant financial goal you can establish for yourself is to get into the habit of saving a portion of what you earn. Frankly, I consider this the real secret to the wealth I've been able to accumulate over my working lifetime.
Sure, it's nice to earn a generous return on your savings. However, even a high rate of return won't help much if you've set aside only a meager amount of capital to invest. As a baseline, I suggest that all gainfully employed people should aim to save at least 10% of their gross pay. I can tell you, though, that my own practice through the years has been to save 20% – 30%, and sometimes more.
I'm not alone, either, among folks who take building wealth seriously. In a recent study of 401k investors who had accumulated balances of $1 million or more, Boston's Fidelity mutual fund group found that these individuals were highly motivated savers, salting away 14% of their pay annually in the 401k on top of a 5% employer contribution — for a total savings rate of 19% in the 401k alone.
What's more, all the respondents in the Fidelity study earned less than $150,000 a year. So, we aren't talking about the "super rich."
If saving comes hard for you, make it easier by enrolling in a 401k at work or, if your employer doesn't sponsor such a plan, set up an automatic monthly investment plan with a mutual fund of your choice. (Contributions debited electronically from your bank account.)
Don't delay taking this vital first step that could transform your financial future!
5 New Year's Resolutions for Your 2015 Finances: Cut Unnecessary Costs

When people tell me they can't save, one of the reasons I hear most often is: "I can't afford it. My bills are too high." I can certainly sympathize.
Decades of fiscal mismanagement in Washington have robbed resources from the private economy and left us with stagnant wage growth. No wonder it's challenging for middle-class families to make ends meet.
Still, unless you've been totally overwhelmed by some personal tragedy (such as a million-dollar medical expense), you've got options. Prioritize your spending, and cut out the items at the bottom of the list.
Could you get by with a cheaper cable TV plan? Have you comparison-shopped auto and homeowners insurance? What about driving a late-model used car instead of a new one? Is your house bigger than you really need?
Envision where you want to go financially (those goals again!), and don't let unnecessary expenses stand in your way.
5 New Year's Resolutions for Your 2015 Finances: Set Realistic Expectations
Investors are often their own worst enemies. By setting unrealistic performance expectations fortheir investments, people lure themselves into a trap. When Mr. Market doesn't comply with their exaggerated hopes, these folks lose faith (as well as patience) and abandon whatever discipline they had.
Perhaps the most unrealistic expectation is that "any investment I buy will go up in value as soon as I buy it." Battle-hardened veterans of the financial markets know the opposite is generally true. Especially if you're attempting to buy when prices are down, the odds are strong that you won't enter at the absolute bottom. Be prepared to see a minus sign on your brokerage statement next to any given investment for several weeks or months, possibly the better part of a year.
What's the best way to handle the emotions that pile up when you've got a paper loss on an investment? Some people use stop-loss orders to sell out automatically once the investment falls by a certain amount (say, a 10% loss). I recommend that approach with leveraged vehicles such as futures and options, where losses can rapidly mount to ruinous proportions.
For most investors and most investments, however, I think stop-loss orders are counterproductive. You'll end up booking a large number of small losses — including some investments that would later have turned into big winners. Frequent trading of this sort will likely depress your long-term results.
Instead of stop-loss orders, I recommend two things to dampen your anxiety over temporary losses. First, maintain a diversified portfolio. If you own lots of individual securities (preferably 30 or more), one problem child will have less impact on your overall performance — and attract less of your attention.
As a second precaution, tilt your portfolio toward assets that pay a liberal current income (dividends or interest). If an investment is supplying you with a constant inflow of cash, you're less likely to dump it in a huff.
5 New Year's Resolutions for Your 2015 Finances: Get the Best Deals
My last proposal may be the easiest to carry out. Run down your list of financial providers and cross off all but the best.
During the last few weeks of the old year and the first few weeks of the new, we tend to feel more open to change — especially change for the better. If you're sitting on high-cost mutual funds with a poor long-term performance record, kiss them good-bye.
If you've been dealing with a broker or money manager who charges too much for inattentive or mediocre service, make a switch. Plenty of competitors are eager for your business!
Close out bank savings accounts that pay subpar interest rates. I myself have been ruthlessly shutting down money market accounts that yield less than 0.9%. I'm shifting more cash into Synchrony Bank (www.myoptimizerplus.com or 866/226-5638), an Internet-based institution that recently boosted the payout on its High-Yield Savings account to 1%.
While 1% may seem low by historical standards, it's ten times more than the national average. Minimum deposit to avoid monthly fees: $30. FDIC insurance up to $250,000 per depositor.
Have I given you enough to work on? I hope so. With these five resolutions under your belt, you've got a battle plan that will make you wealthier and money-wiser in 2015. Let's get together again in 12 months, and see how you're doing!
Richard Band's Profitable Investing advisory service helps retirement savers outperform the market without losing a minute of sleep along the way. His straightforward style and low-risk value approach has won nine Best Financial Advisory awards from the Specialized Information Publishers Foundation.