It's no secret that Apple Inc. (AAPL) has been under the gun in the past year, falling from a high near $133 in mid-summer to Thursday's close of $93.24. While investors who have sought to pick a bottom in AAPL stock have been largely frustrated during this interval, the charts indicate that now be the time to take advantage of the tech giant's depressed shares.
At $93, Apple is holding above a level that as acted as support several times in the past four months. On five separate occasions, AAPL has moved below $93 intraday and managed to recover and close above this support line.
Two other instances — both in February — AAPL stock made an intraday low at $93 before moving higher into the close.

Investors therefore can take a position in Apple with a greater degree of comfort than has been the case during the past 12 months, and do so with the stock trading at 9.9 times trailing 10.2 times forward earnings.
As the accompanying chart shows, AAPL stock held its ground and subsequently traded higher after falling to 10 times trailing earnings in both 2013 and February of this year.
It's also worth noting that the Relative Strength Index (RSI) has fallen near 20 — a level that typically indicates a short-term bottom is close at hand.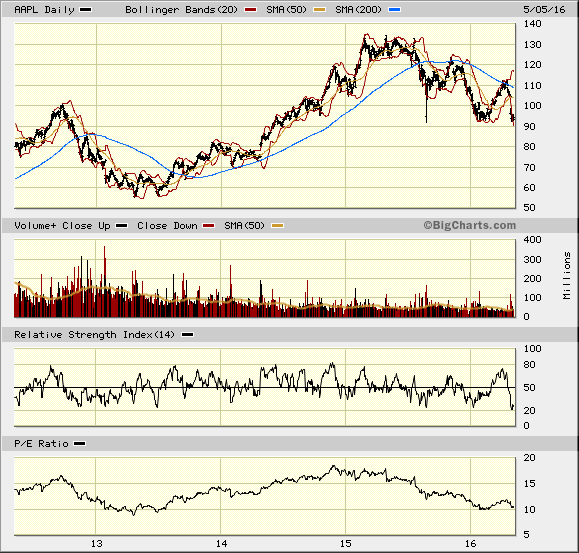 Add it up, and AAPL stock represents an opportunity for those who want to play for a recovery while defining their downside risk via a stop at the $92 support level.
As of this writing, Daniel Putnam did not hold a position in any of the aforementioned securities.