Troubled action camera maker GoPro Inc (NASDAQ:GPRO) is rebounding strongly on Thursday — up more than 14% as I write this — thanks to the announcement of a corporate restructuring as well as the issuance of strong forward guidance. This takes GPRO stock back to its 20-day moving average, a level that was lost earlier in the month.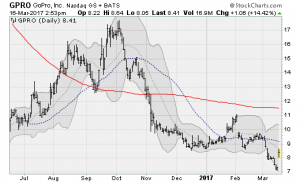 Click to Enlarge On Wednesday night, management affirmed first-quarter revenue guidance in the upper end of its previously announced range of $190 to $210 million and repeated its target of full-year non-GAAP profitability.
To that end, a restructuring to reduce its full-year GAAP operating expenses to below $585 million and non-GAAP operating expenses to below $495 million was outlined — a move the company doesn't believe will impact its roadmap for new hardware and software products.
As part of this, the company will cut 270 positions.
Analysts at Stifel, in a note to clients, expressed confidence management is showing a new level of commitment to profitability and cash management. Yet they lowered their price target by a dollar to $9 on concerns regarding the effects that the restructuring and job cuts will have on end-user demand.
GPRO continues to struggle to bounce back from the very embarrassing recall of the Karma drone over the holiday shopping season. While the product is back on the shelves, it's getting poor reviews as competitors such as the DJI Phantom 4 and Mavic Pro have pushed ahead in the meantime.
GoPro next reports results on April 27 after the close. Analysts are looking for a loss of 53 cents per share on revenues of $200.6 million.
Anthony Mirhaydari is founder of the Edge (ETFs) and Edge Pro (Options) investment advisory newsletters. A two-week and four-week free trial offer has been extended to InvestorPlace readers. Redeem by clicking the links above.