Anytime you discuss the marijuana industry, it's bound to generate controversy. But with Weed Inc (OTCMKTS:BUDZ), the controversy isn't the product, but the tremendous loss of shareholder value. From its January peak, Weed stock has tanked an alarming 74%. I'm surprised that investors' pitchforks haven't come out yet.
Still, this is the usual trajectory for investments in this sector. While the prospects of legal marijuana are certainly exciting, its relative newness is also a liability. Individual states have their own regulations, restricting growth opportunities. Furthermore, fully legal states do not necessarily equate to full freedom. For instance, in "herbal-friendly" California, you can't smoke pot in public and landlords can still ban it. In addition, your employer can still fire you for testing positive for marijuana at their discretion.
As a result, financing can be a real problem for smaller firms. Since the federal government classifies marijuana as a Schedule I drug, most traditional institutions won't touch businesses like Weed Inc. Overall, these and other challenges have placed a damper on BUDZ stock.
But despite significant headwinds, I wouldn't completely give up on Weed stock. Granted, the sector is extremely speculative, and one shouldn't invest unless ready to endure cryptocurrency-like volatility. But if you can stomach the wild ride, I have three reasons why Weed Inc could surprise.
BUDZ stock Trades in a Proven Industry
Primarily, Weed Inc is a medicinal cannabis play, which really is the best approach to the overall industry. I'm not speaking from just a morality perspective. Marijuana as a medical therapy is leading the way as American society slowly shifts from its staunchly conservative stance on cannabis. Once the medicinal base is established, the recreational sales follow.
The best example we have is Colorado.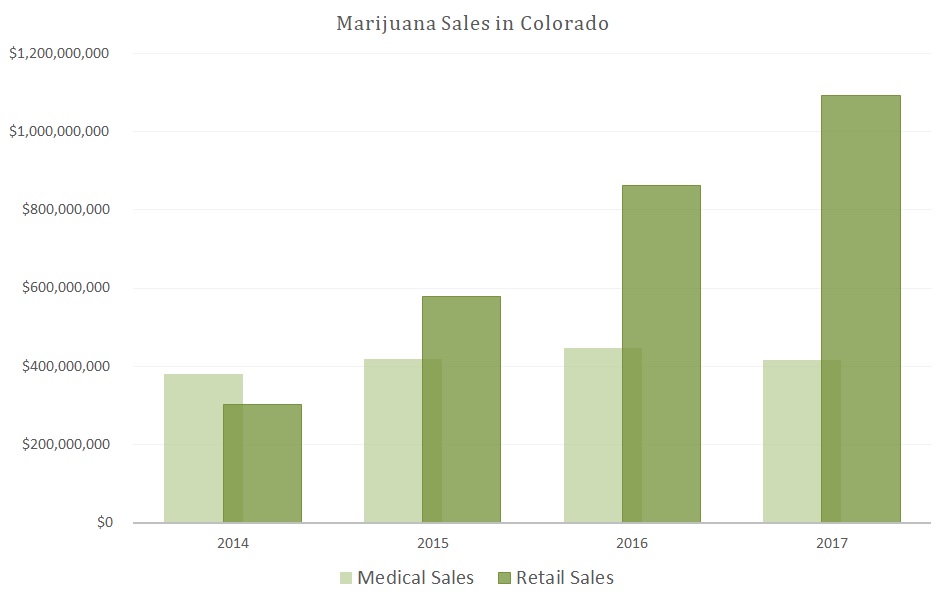 In 2014, total marijuana sales in the state amounted to $683.5 million. The following year, the sector was on the cusp of $1 billion, and decisively broke through in 2016. Last year, the state benefited from $1.5 billion in revenue, and demand is still robust. In January of this year, the industry hauled in nearly $118 million, a 9.5% year-over-year increase.
More significantly, medical marijuana sales have largely stayed consistent since 2014. This tells me that patients who use herbal therapies continue to do so, which is a plus for Weed stock. What's changing though is public sentiment. Retail marijuana demand has exploded 260% in just four years. That's a figure that will only keep rising.
I understand that BUDZ stock is an extremely risky proposition. Still, triple-digit industry growth is something you can't just ignore.
Political Tailwinds for Weed stock
With a President that campaigned for "law and order," it's difficult to imagine how Weed stock can survive. Moreover, Attorney General Jeff Sessions has developed a reputation for a hardnosed approach to the legal system. Presumably, this makes the Schedule I specter a tough pill to swallow.
If this were any other circumstance involving a conservative President, I'd agree: stay away from BUDZ stock unless you like losing money. But the current political and societal climate is much more nuanced. Whereas the Trump administration sees things as black or white, outside events are throwing in shades of gray.
Here's a reality check: our nation is deeply divided. The one ace that the White House might still be able play is the economic card. Thus, while Trump wants to maintain his tough sheriff image, he likely has to concede with marijuana. Killing companies like Weed Inc will only hurt green states, many which are struggling with fiscal deficits. Not only that, marijuana is a great employer.
But we also must contend with a far more fundamental issue: prosecuting marijuana makes no sense. Like alcohol, it's a personal choice, and we clearly have much more important issues to tackle. Sessions appears to understand this, and we may expect softening enforcement despite the rhetoric.
Possible Bottoming in the Share price
With over-the-counter assets, it's difficult to gauge a proper entry point. Someone could pass wind and the entire market could react. In other times, we could seemingly have an abundance of news, yet perceive no movement.
With that caveat out of the way, it's possible that Weed stock may have hit a bottom. From December 22nd of last year till January 9th, shares gained a ridiculous 423%. But against the current price of a little over $3, the cannabis company has given most of it back.
Could BUDZ stock stage a comeback? It's not the craziest assumption. For starters, the extremely irrational bullishness late last year shouldn't have happened. However, Weed Inc is certainly worthy of at least modest interest.
The marijuana industry has proven exceptionally lucrative. The legal challenges, while problematic, are not unresolvable. Finally, an embattled Trump administration can't afford to stomp on a viable economic asset.
They're not perfect tailwinds, but they might just send Weed stock higher from here!
As of this writing, Josh Enomoto did not hold a position in any of the aforementioned securities.