This wasn't the way Coinbase intended to increase its transparency. Nevertheless, in response to the New York State Attorney General's request for information, the cryptocurrency trading platform acquiesced. Sending data relevant to investor risk assessment, Coinbase publicly revealed one curious detail: it's been revamping for an avalanche in trading volume.
The popular crypto exchange and online wallet stated that it "doubled the size of its full-time engineering staff and has overhauled much of the platform's code." Furthermore, Coinbase made a public announcement noting its intention to again double its capacity in the coming months. More importantly, the company will maintain the "highest standard of security" that its clients expect.
That Coinbase ramped up its platform's capacity isn't surprising. What is surprising is that the scope of the improvements may not be enough.
In 2014, bitcoin's total trading volume summed up to $9.16 billion.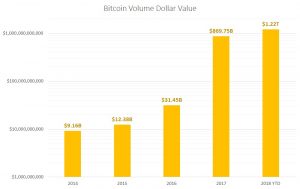 A year later, it enjoyed a healthy 35% lift to nearly $12.4 billion. In 2016, things got moving when total volume measured $31.4 billion in value.
However, last year was the ultimate revelation, bringing in almost $870 billion. And despite suffering severe volatility, this year has already set new records: bitcoin's aggregate trading volume recently hit $1.2 trillion.
In other words, cryptocurrency trading isn't going away anytime soon. But with the bitcoin price currently below 64% of its all-time record, outsiders have one, simple question: why?
Cryptocurrency Trading Never Sleeps
Prior to bitcoin's amazing run to $10,000, I wrote that such an astounding milestone wasn't that crazy. For one thing, anybody anywhere — as long as they have access to the internet — can trade bitcoin at any time. To put it succinctly, cryptocurrency trading never sleeps.
I strongly believe this is one of the primary reasons why cryptocurrency trading soars while other, traditional investing platforms suffer. Even inside America, the stock market has a clear, centralized bias. If you live on or near the East Coast, investing is much more favorable. However, on the West Coast, it's a different story.
When Wall Street's opening bell sounds, many of us are either waking up, or scarfing down a hurried breakfast. Investing in the stock market is the last thing on our agenda, if it appears at all. By the time we're ready to sneak in a few trades, the closing bell has already rung.
With cryptocurrency trading, every time zone in the world is on equal footing. This makes the blockchain platform relevant to the 21st century. In contrast, Wall Street was founded in the early 19th century.
The Blockchain Remains Vibrant and Robust
A true (and sustainable) market houses both buyers and sellers. I argue that very few, if any sectors are as vibrant and robust as cryptocurrency trading.
Initially, my words may sound strange and off-putting. After all, bitcoin and crypto markets are extremely speculative affairs. For every rags-to-riches story, several riches-to-rags tales exist. Furthermore, I've yet to come across an industry that has such sharply divergent and, sometimes, vitriolic opinions.
Overall, I think it's fair to say that cryptocurrency trading arouses suspicion and anger — anger that such a vehicle exists in the first place and that people are dumb enough to buy it. One of our most noted bitcoin critics, Lawrence Meyers routinely reminds us that cryptocurrencies are vapor.
But I respectfully ask the naysayers: Do not these sharp disagreements confirm bitcoin's viability? We have here the most important element in any market — a group of buyers and sellers.
Not only that, you rarely find consensus in cryptocurrencies, even within one particular side. For example, one proponent may foresee bitcoin hitting a million bucks. Another would feel fortunate just to return to $20,000.
I personally won't get panicked about cryptocurrency trading until everyone, including Meyers, is singing bitcoin's praises.
These Are 'Pure' Markets
In prior InvestorPlace articles, I've mentioned that millennials typically want authenticity in the brands they buy. I propose that, in financial markets, you will find no more an authentic platform than cryptocurrency trading.
I concede that, again, this initially sounds like a bizarre statement. Cryptocurrencies, as Meyers states, are cryptic. Authenticity is the last adjective that most people would use to describe bitcoin and other blockchain tokens.
However, I'm not referring to the asset's nature, but, rather, the trading dynamic. With cryptocurrency trading, we do not have plunge-protection teams to cool down the markets if they get too volatile. Instead, if a severe sell-off occurs, you ride it out. "Caveat emptor," I might say if I spoke Latin.
Granted, I can see how traditionalists would scoff at this notion. They might insist that investing markets require central administrators to keep order. Yet cryptocurrency trading is a microcosm of broader societal and generational changes.
Coinbase understands this, which is one of the reasons why it's so wildly successful. They produced a clean, accessible platform that anyone can use. This purity and simplicity has earned it millions of users, and I don't see this progress faltering for a long time to come.
As of this writing, Josh Enomoto is long bitcoin.