Lyft (NASDAQ:LYFT) has been taking a lot of heat for its post-IPO performance, but its main competitor in multimodal transportation, Uber (NYSE:UBER), hasn't inspired confidence either. Of the two, though, you have to like Lyft stock a lot better.

UBER stock had a tough first day of trading. It not only priced below its indicated price but also traded down almost 8%. Halfway through the day, it seemed as though demand started to pick up with the stock getting near $45, but then stock lost momentum, finishing the day deep in the red.
Some are calling call the deal a "trainwreck" though to be fair UBER and its bankers could not be expected to know how much China trade talks would weigh on overall markets.
With UBER stock having flopped badly with some similar concerns on fundamentals that would apply to LYFT, the question remains, in this winner-takes-most transportation technology universe, who is the better buy?
LYFT Stock Has a Better Trajectory
For starters, as I outlined last month LYFT already holds a lead over Uber in electric scooters.
That's not the only place.
LYFT's growth across multiple metrics in Q1, are extremely positive. Note though, that because Uber and Lyft use different metrics, comparisons are rarely ever 100 percent apples to apples. Uber uses Monthly Active Platform Consumers (MAPCs), which includes Uber Eats meal recipients. Since LYFT doesn't currently offer a food delivery service, that number has to be discounted (though by how much is hard to say), when comparing to LYFT.
Active Riders grew 46 percent year-over-year and revenue grew 95 percent year-over-year. While LYFT does not disclose the exact same metric, Revenue per Active Rider has increased 34 percent year-over-year. It's possible that trips per user may not have been the driver.
This is to say, it could have been pricing increases as opposed to frequency increase, but with the substantial 46 percent jump in riders i.e., volume, LYFT is monetizing effectively.
Uber is also losing considerably less on an Adjusted EBITDA basis. If you thought LYFT's negative figures were egregious, you better be sitting down when you see UBER's.
Take 2018, for example, LYFT posted a loss of $944 million compared to UBER's 1.8 billion loss. Moreover, 2017 was even worse for UBER, which $2.7 billion compared to LYFT's $696 million. LYFT's losses seem almost quaint in comparison.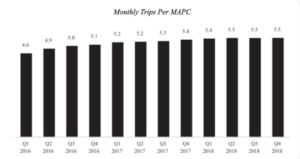 Monthly trips per user have flatlined at 5.5. This is a big growth driver that's no longer delivering growth.
It's a problem.
Final Note on Uber Stock
LYFT has been called a "turkey," but the numbers show that LYFT is still a better buy than Uber. Despite record first quarter earnings, LYFT has continued to slide downwards, providing a potentially attractive entry point. As the company marches toward positive EBITDA—remember cash flow is the name of the game in tech—shorts are going to get squeezed.
Where there is promising data with LYFT, the case with UBER stock is less certain. Substantially larger losses and plateauing rider metrics are big concerns. Hindsight is always 20/20, and investors betting on LYFT are going to find themselves validated down the road.
As of this writing, Luce Emerson did not hold a position in any of the aforementioned securities.