Two schools of thought are taking shape around Landcadia Holdings II (NASDAQ:LCA). One says this special purpose acquisition company, or SPAC, is merely a billionaire's clever strategy to improve his corporate balance sheet. The other view contends that LCA stock gives investors an opportunity to get in on the ground floor of a company entering the emerging world of online wagering.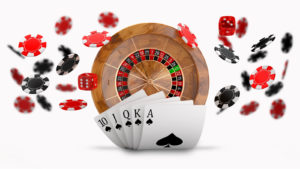 Both conclusions may be true.
Thus, investors face a tricky combination. The potential buyers of LCA stock should not approach these shares in a casual manner. This SPAC requires investors to be willing to embrace an extra dose of speculation before pulling the trigger.
What Is Landcadia Holdings II?
This second version of Landcadia Holdings is based in Houston. As a SPAC, it is publicly traded and looking to join forces with a private company that wants to go public without the usual chores associated with an initial public offering. This is not a new way to go public, but for some reason, SPACs have become very fashionable, especially for companies in the electric-vehicle arena.
At the center of this particular deal is Tilman Fertitta. He is the CEO and sole owner of Fertitta Entertainment, whose holdings include the Landry's restaurant chain, the Houston Rockets NBA team and Golden Nugget casinos and hotels.
Landcadia will merge with Golden Nugget Online Gaming in what my InvestorPlace colleague Luke Lango sees as a "pure-play" on a publicly traded online casino venture. Through the deal, the Golden Nugget parent company will repay about $154 million of debt, and receive some $30 million of cash and more than 31 million shares of stock.
Lango's recent article lists LCA stock as one of three stocks to buy to get exposure to the internet gambling space.
Making the Gamble With LCA Stock
Perhaps you noticed the Roman numerals in Landcadia's formal name. That designation denotes that this venture is the second SPAC launched by Landcadia Holdings. About two years ago, the first Landcadia merged with Waitr Holdings (NASDAQ:WTRH), an online food ordering and delivery firm. The shares of Waitr hit $14 in March 2019 but started dropping in April. It currently trades around $3.
So Fertitta's SPAC track record does not inspire confidence.
Another InvestorPlace colleague, Will Ashworth, suspects the latest Landcadia Holdings won't fare any better.
"Of all the horses to bet on, Fertitta might not be the one whose house is in the best shape," Ashworth wrote on Sept. 18. "His debt situation alone suggests a lot has to go right for him not to lose some of his toys in the coming months."
Meanwhile, observers see potential in the emerging segment of internet gambling whose trendy nickname is iGaming.
Seeking Alpha recently said internet gaming has greater potential than its cousin, sports betting. According to the article, Golden Nugget stated that internet gamblers spend an average of seven times more than folks who are betting on sports. Although there is widespread enthusiasm about sports betting, casino-style gaming relies on gamblers' desire to play blackjack, poker or other contests in a virtual casino.
Further, the age of the novel coronavirus could also become the age of iGaming.
The Bottom Line
Landcadia Holdings is a SPAC, a set of letters that most investors these days will recognize. A SPAC and private company join to form a new public company. The private company completes a reverse merger to reach the stock market.
In this case, LCA stock soon will become Golden Nugget Online Gaming, the internet version of the famous Las Vegas and Atlantic City casino.
Potential investors must decide if they are willing to assist a billionaire improve his over-leveraged portfolio and ignore the results of his first SPAC venture. Also, investors must evaluate whether buying LCA stock is just too much of a gamble as the merger has not closed. Caution is warranted, given the state of the economy and regulatory uncertainty. Put another way, this one isn't for everybody.
However, even with those yellow flags, I am leaning towards calling the shares a buy – but only with money earmarked for speculation. This is not about putting money in a proven company to help fund your retirement. (There are many fine choices to carry out that noble task.) Buying shares of LCA stock could be an early play in internet gaming but with a name – Golden Nugget – that's already in the business.
On the date of publication, Larry Sullivan did not have (either directly or indirectly) any positions in any of the securities mentioned in this article.
Larry Sullivan is a veteran journalist in Florida who has covered banking and finance for several years. He is a former investing editor at U.S. News & World Report in Washington D.C.