There's a penny stock bubble going on.
Now, this doesn't mean that these stocks in this risky part of the market are about to break down. Sometimes bubbles can keep going for much longer than anyone predicts. But one thing is certain. Like all other bubbles, sooner or later this one will pop too. That means that investors need to be careful.
There's an old saying on Wall Street — "gaps refill." If a stock rips higher in a very short period of time, it will spend little or no time trading at the price levels that it moves through. This type of action shows up as a gap, or empty space on a chart.
And if a stock only spends a small amount of time at these levels, only a small amount of vested interest will form at them. This means that there won't be a lot of buy interest at the levels it gapped through. This means it could fall right back through these levels on the way down.
This will appear on a chart as the gap being refilled. Investors in these seven stocks should use caution.
Penny Stock Bubbles: Zomedica Corp (ZOM)

Chart by TradingView
Zomedica is a developmental-stage veterinary testing and pharmaceutical company. If you've ever been to the vet, there's a good chance that your dog or cat has used some of Zomedica's products.
In November, ZOM was trading around 6 cents a share. As you can see on the chart, the shares gapped up. Now they are trading close to a dollar.
That means the valuation of the company has increased from $48 million to $808 million in less than three months.
Zomedica has made a few headlines of its own over this time period. Just a few days into the New Year, it named interim CEO Robert Cohen as the full time CEO. He'd been serving in that role since June. It also set up a distribution deal with Miller Veterinary Supply for its first product, Truforma.
But investors should ask themselves whether or not this news was enough to increase the company's valuation by over 1,600%. If it was, great. But if not, this bubble will burst.
IsoRay, Inc (ISR)
Isoray develops, manufactures, and sell medicals equipment and products that are designed to treat cancer and other malignant diseases. Its customers are surgical facilities in both the United States and internationally.
On Jan. 5, The Food and Drug Administration gave 501k Clearance for Use to the company, in conjunction with C4 Imaging, for a prostate cancer therapy. Then, Isoray just gave a presentation at the H.C. Wainright BioConnect virtual conference. Investors must have like what they heard between these two events, because as you can see on the chart, it has traded higher since then.
ISR mostly traded under 50 cents into the end of the year. As you can see on the chart, in early January as these news items came out, it gapped up. Now it is trading close to $1.80.
If it starts to trend lower and reaches these levels, there's a good chance that the shares fall right back to 50 cents. The gap will have refilled.
ObsEva SA (OBSV)
ObsEva is a clinical-stage biopharmaceutical company that focuses on the development and and marketing of therapeutics for reproductive health and pregnancy. It is based in Geneva, Switzerland.
In December, shares of OBSV traded as low as $1.95. After gapping up they are trading around $4.25.
The current market cap is $187 million. This is up from $105 million in less than two months.
As you can see on the above chart, shares of ObsEva gapped up from $2.50 to over $3.50 on Jan. 15. If shares roll over and get back to $3.50, there is a chance that the gap would refill.
Investor need to be careful. This means OBSV would quickly plunge from $3.50 back to $2.50. The move could happen so rapidly that people who want to sell at a specific price within range may not be able to.
American Battery Metals (ABML)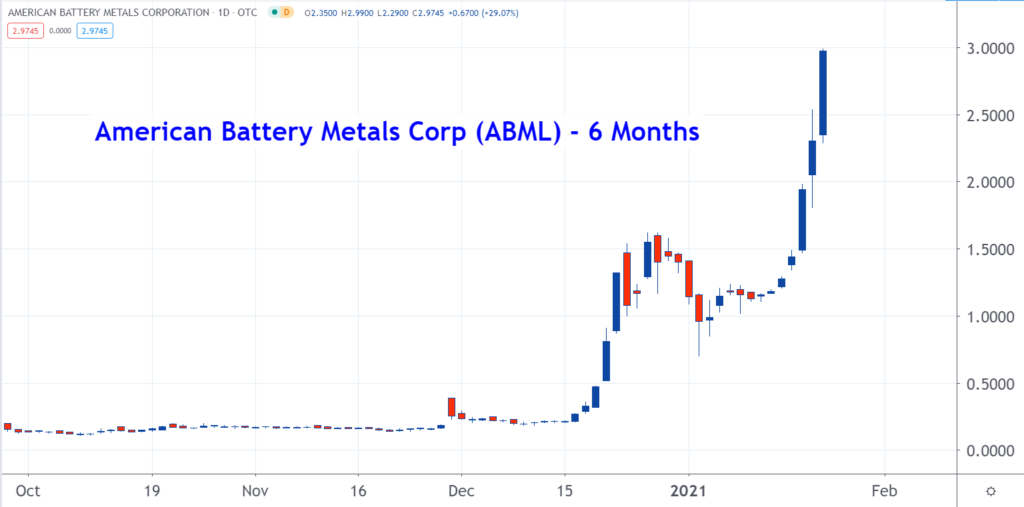 Chart by TradingView
American Battery Metals mines and recyclizes of battery metals. It it is also in the mining and extraction business. The company is based and mainly operates in Nevada.
Back in November ABML traded around 15 cents. Now the shares are trading around $3.35.
The current market cap is about $1.6 billion. It was less than $10 million just three months ago.
The company is consider a clean energy play. This means it could benefit from policies of the new presidential administration. American Battery has also announced additions in key personnel.
These two dynamics have obviously caused investors to push shares of American Battery higher. But these investors should ask themselves whether or not the dynamics are enough to make a company that was only worth $10 million three months ago to more than $1 billion today?
Safe Bulkers (SB)
Safe Bulkers is in the shipping business — as in, actual ships. It operates a fleet of 41 vessels and is based in Monaco.
SB has climbed from 87 cents to levels around $1.85 since early November. The current market cap is $167 million. It was $88 million just three months ago.
In late December, Safe Bulkers announced that it was going to acquire a new Japanese-built, dry-bulk, Post-Panamax class vessel. The company said that the terms were attractive. The ship is scheduled to be delivered in the third quarter of next year.
The new ship will be a new source of revenue for SB. But investors should consider whether this, or any other news, justifies a more than 100% increase in the company's valuation in just a few months.
Guardion Health Sciences (GHSI)
Guardion Health Sciences is a specialty health sciences company. It has two segments, Medical Foods and Medical Devices. Its customers are mostly in the United States.
Shares of GHSI trading for 17 cents in November. Now they are trading around 89 cents.
The current market cap of Guardion is currently $81 million. This is up from $15 million.
The company recently announced that it named industry veteran Bret Scholtes as president and chief executive officer.
Guardion has been losing money for years. For the last quarter, it reported a loss of $2.1 million. This is slightly better than the prior year's loss of $2.3 million, but it's still a loss.
Investors are hoping Scholtes can turn things around. But they need to be cautious. If he cant, there's a chance GHSI makes a fast and steep plunge right back down to November's levels.
Nouveau Monde Graphite (NMGRF)
Nouveau Monde Graphite is a mining company that acquires and develops mineral properties in Quebec, Canada. It primarily looks to mine graphite.
In September shares of Nouveau were trading at 13 cents. Since then they have been on fire. Now they are trading around $1.20 per share. The current market cap is $345 million. This is up from $36 million then.
The company has made some announcements recently. It said it is making significant progress on the advancement of its previously announced Phase 1 purification operation in Bécancour, Québec.
Nouveau also announced that it closed on an oversubscribed financing package.
Clearly, investors have taken this announcements as a positive. But they should also be ask themselves if it warrants an almost 10 times higher valuation now than it did in September.
At the time of this writing Mark Putrino did not have any positions (either directly or indirectly) in any of the aforementioned securities.