Cybersecurity now means a lot more than just running McAfee (NASDAQ:MCFE) antivirus software on your desktop computer. Defending ourselves from cyber-intruders has become a way of life that encompasses almost every facet of our daily existence.
Last week, in response to the recent cybersecurity attacks on the Colonial Pipeline and software contractor SolarWinds (NYSE:SWI), President Biden hosted a cybersecurity meeting with the heads of some of the biggest tech, energy, and finance companies.
Afterward it was announced that over the next five years…
Alphabet (NASDAQ:GOOG, NASDAQ:GOOGL) will commit to $10 billion to cybersecurity efforts and also agreed to train 100,000 Americans in technical fields.
Microsoft (NASDAQ:MSFT) agreed to $20 billion. For perspective, since 2015, Microsoft has set aside $1 billion per year to cybersecurity efforts. In addition, CEO Satya Nadella said that the company will invest $150 million to expand cybersecurity partnerships and upgrade current government agency systems.
IBM (NYSE:IBM) will train 150,000+ Americans in cybersecurity, making additional efforts to diversify their workforce.
It's no secret that cybersecurity has become a major investment opportunity — and with a handful of major companies hopping on initiatives that many smaller companies have already pioneered, the profits are real and ripe for the picking.
Stock-Picking Legend Shares One of His Top Plays for 2022
The Ongoing Threat — But a Foundation for Opportunity
The term cybersecurity describes a broad range of proactive protections and reactive defenses — all of which try to thwart a specific cyber threat or combination of threats.
The first-generation cybersecurity tactics were usually add-ons to an existing hardware or software platform — kind of like building a wall around an existing house. But many next-generation tactics incorporate cybersecurity from the ground up. Rather than circling a house with a wall, they attempt to build an impenetrable castle.
Increasingly, this castle-building process requires made-in-America components, just to be on the safe side.
And there is a lot of building left to be done. In 2019, only 13% of U.S. states rated themselves as proficient in terms of cybersecurity.
Globally, countries and corporations spent about $159 billion on cybersecurity in 2019. But that number is on track to soar to $270 billion per year by 2026, according to the research firm Gartner.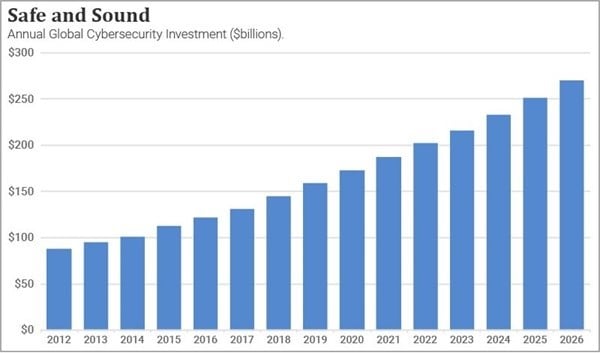 That's because cyber threats are growing by the day.
In 2014, congressional testimony from the FBI stated that virtually every national security threat and crime problem the FBI faces is cyber-based or -facilitated.
That testimony, titled "Worldwide Threats to the Homeland," stated:
"We face cyber threats from state-sponsored hackers, hackers for hire, global cyber syndicates, and terrorists. They seek our state secrets, our trade secrets, our technology, and our ideas — things of incredible value to all of us. They seek to strike our critical infrastructure and to harm our economy.

"Given the scope of the cyber threat, agencies across the Federal government are making cybersecurity a top priority. The Department of Justice, including the FBI; the Department of Homeland Security; the National Security Agency; and other U.S. Intelligence Community and law enforcement agencies have truly undertaken a whole-of-government effort to combat the cyber threat."
One year after these remarks from the FBI, at a 2015 technology conference, Admiral Michael Rogers, at the time director of the National Security Agency and the U.S. Cyber Command, cited some of the cyber threats that concerned him the most from a national security perspective:
Cyberattacks that do infrastructure damage — "It is only a matter of 'when' that someone uses cyber as a tool to do damage to the critical infrastructure of our nation," Rogers said. By that, the admiral meant the electric grid, railroad switches, traffic control systems, nuclear power plants, and more.
Data manipulation — "Historically, we've largely been focused on stopping the extraction of data and insights, whether for intellectual property for commercial or criminal advantage, but what happens when suddenly our data is manipulated and you no longer can believe what you're physically seeing?" he said.
To cite one hypothetical example, cyber attackers could take airplanes on and off screens used by air traffic controllers. That false data could cause "risk-based decisions" to go catastrophically wrong.
New tech platform could create $56 trillion wealth opportunity
Cyber threats have only intensified since the FBI and Admiral Rogers aired their concerns half a decade ago. For example, FBI Director Christopher Wray stated recently, "We've now reached the point where the FBI is opening a new China-related counterintelligence case about every 10 hours."
Unnerving stories like these usually fall on deaf ears. After all, most folks don't want to devote a lot of time and energy to preparing for an inevitable threat that isn't also imminent.
The troubles of the day are overwhelming enough. But the Covid-19 pandemic may be changing all that. Now we understand firsthand how bad it can be to ignore the inevitable, even though it might not be imminent.
Furthermore, many forms of cyberattacks are not a distant threat. They are ongoing daily occurrences.
Where the Secure Path Leads
In today's digital age, data and our handling of it has evolved into the ultimate source of economic power. Losing that data to cyberattacks is a loss of power and competitive strength.
At the most basic level, almost every form of cyberterrorism is a form of theft. It steals our wealth… our liberty… our sense of security.
Defending ourselves against this threat, which is both amorphous and invasive, is no small task.
That's why companies and governments around the world are spending hundreds of billions of dollars trying to stay one step ahead of the threat.
"Cybersecurity now dominates the priorities of every organization as each adapts to a post-Covid-19 world," Forbes reports. "Remote workers' identities and devices are the new security perimeter… In a post-Covid-19 world, cybersecurity is as critical as internet access itself."
Not surprisingly, therefore, most of the world's leading cybersecurity companies have been growing revenues and earnings at high double-digit rates for the last few years.
That growth trajectory shows no sign of slowing down.
Stock Picking Legends Name Their Favorite 5G Plays
Yearly global cybersecurity spending is on track to rocket nearly 50% by 2025. And it's not hard to imagine that an increasingly technological world will produce ever-growing demand for cybersecurity solutions.
Furthermore, cybersecurity has become inseparable from 5G deployment. So it helps to understand the two sectors in conjunction with one another.
Quite literally, cybersecurity considerations are one of the biggest reasons why my next recommendation may prosper over the coming years.
The United States and many other countries consider this Swedish technology company to be a "safe" provider of critical 5G infrastructure.
And I know what you may be thinking…
Every mobile carrier commercial you see boasts of their new 5G reach — isn't 5G just an upgrade from 4G?
Sure, if you consider the smartphones of today a mere "upgrade" from rotary phones.
In reality, 5G is far more than just a better means of connection; it's a whole new kind of communication: Where 4G is a neighborhood road where the speed limit's 10 miles an hour…
… 5G is a 10-lane highway where you can go 1,000 miles an hour.
5G changes the way everyone and everything connects, including:
E-commerce and retail…
Entertainment, education, energy…
Insurance, real estate, manufacturing, financial services, and more.
And, of course, cybersecurity.
At the helm of this 5G movement are five plays that I believe every investor should own.
And one in particular focuses on cybersecurity…
Over the years, the company's data speed and data security have become inseparable processes, bolstering its rapidly growing cybersecurity division — to the point that it now accounts for one-third of the entire company's revenues.
You can learn more about my 5G picks in my 2021 Wealth Acceleration Summit — and how you can take advantage of the $56 trillion tech explosion coming.
Regards,
Eric Fry
P.S. I don't like to toot my own horn, but over the last year, I've identified 41 1,000% winners. So I urge you to check out my 2021 Wealth Acceleration Summit — I'll talk about where I see the next wealth opportunity emerging. Go here now.
NOTE: On the date of publication, Eric Fry did not own either directly or indirectly any positions in the securities mentioned in this article.
Eric Fry is an award-winning stock picker with numerous "10-bagger" calls — in good markets AND bad. How? By finding potent global megatrends… before they take off. In fact, Eric has recommended 41 different 1,000%+ stock market winners in his career. Plus, he beat 650 of the world's most famous investors (including Bill Ackman and David Einhorn) in a contest. And today he's revealing his next potential 1,000% winner for free, right here.