I'm a huge believer in being honest.
And to be honest with you, cannabis stocks have – despite the hype – been an utter disappointment for years.
Back in October 2018, Canada legalized recreational weed. That was supposed to open the floodgates for the cannabis industry, and usher in a new "Golden Era" for cannabis companies, sparking a decade of hypergrowth.
That didn't happen.
Canada botched the roll-out of legal weed by being too restrictive on taxes and distribution. Demand stayed in the black market. Other countries took note and proceeded to put their own cannabis legalization efforts on hold.
Pot stocks – which soared into the Canadian legalization catalyst in late 2018 – have since plunged, with the ETFMG Alternative Harvest ETF (MJ) falling as much as 80% from late 2018 to early 2020.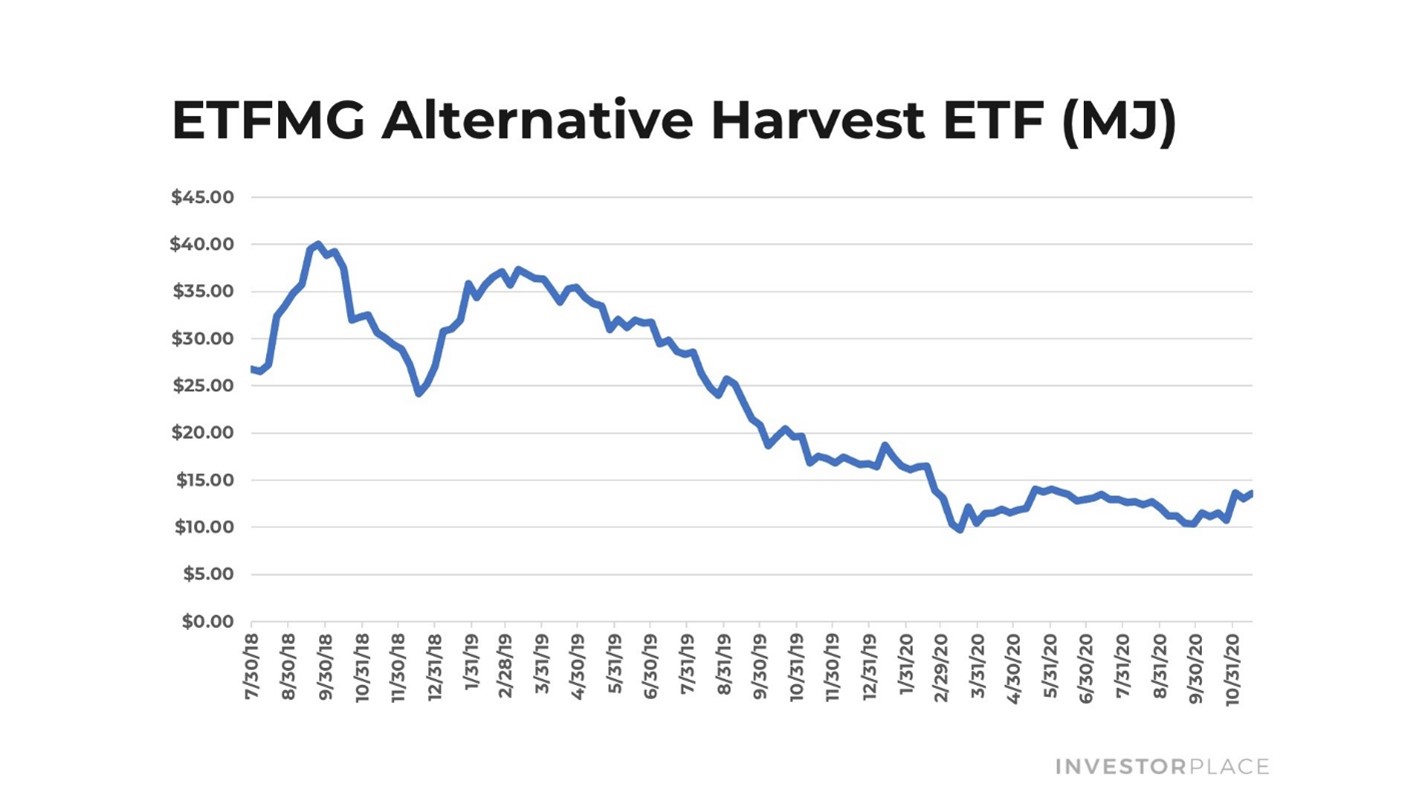 Talk about a disappointment…
But the tide is finally starting to turn for this "disappointing" industry.
Sure, you may have just read that the big U.S. bill to federally decriminalize cannabis – the Cannabis Administration and Opportunity Act – failed to muster enough votes to pass the Senate. Pot stocks have tanked over the past week as a result.
But this sell-off presents a compelling opportunity, because while that headline legislation didn't pass, it doesn't need to for this industry to sprint into hypergrowth mode over the next 12 months. That's because weed is already legal in most big markets, and in those markets, legal sales are just starting to boom.
In 2020, Canada significantly eased cannabis market restrictions, and created a better legal framework which is starting to pull demand from the black market into the legal channel.
These key changes include:
Pivoting from a "lottery system" for retail store openings to an "open licensing" model which has removed a hard cap on the number of cannabis stores allowed to operate in certain provinces and caused a surge in legal pot distribution.
Introducing new derivative products like edibles and drinks into the market, which has sparked a surge in consumer demand.
Dropping the price of legal cannabis to C$7.05 per gram, which undercuts the cost of black market weed at around C$8 per gram.
The result?
For the first time ever, legal pot spending in Canada topped black market spending in the third quarter of 2020. That trend accelerated in the fourth quarter of 2020, and most signs point to it accelerating even further here in 2021.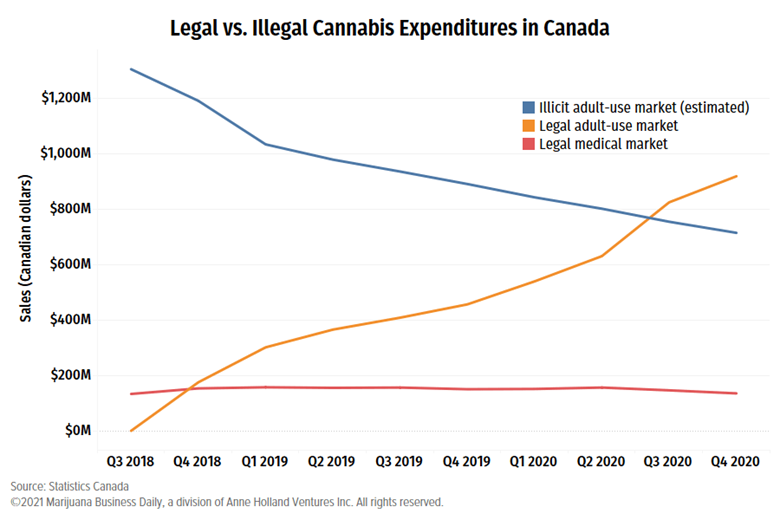 In other words, the legal Canadian cannabis market boom that was supposed to happen back in late 2018, is instead happening right now.
At the same time, although the Cannabis Administration and Opportunity Act failed to muster enough votes, state-level U.S. legalization efforts are gaining serious momentum.
During Election 2020, five states had cannabis legalization on the ballot. All five passed it, including some traditionally conservative states like Montana and Arizona.
Plus, the fact that the Cannabis Administration and Opportunity Act even made its way to Washington is a big deal – and shows that progress is being made toward the inevitable final chapter here, which is federally legal weed.
If you're keeping score, that means Canada's legal cannabis market is on the cusp of finally coming into its own and the U.S. legal cannabis market is ready to come to life.
And that's not all…
Down south, Uruguay legalized all marijuana across the entire country in 2012. Mexico just legalized pot earlier this year. Across the pond, Poland and Ukraine are inching closer toward cannabis legalization, while a recent parliamentary survey in France – one of the strictest countries when it comes to marijuana laws – found that 80% of French citizens believe that consumption and production of weed should be allowed.
It doesn't take a rocket scientist to connect those dots.
The global stage is set for the long overdue "Pot Stock Boom" to finally arrive – and for this disappointing industry to shift into a new, never-before-seen hypergrowth gear.
Because… to be clear… young consumers are rapidly pivoting from drinking alcohol to smoking weed.
According to a 2019 Monitoring the Future survey of U.S. high school students, about 29% of high school seniors drink on a monthly basis, down from 54% in 1991 – while 22% smoke weed on a monthly basis, up from 14% in 1991.
The trend is crystal clear.
Young consumers have robust and growing demand for cannabis. Give them a solid, convenient, and affordable framework to legally buy weed, and they'll do just that… in bunches.
That solid, convenient, and affordable framework has arrived in Canada, and is close to arriving throughout the U.S. and the rest of the world.
Get prepared for the global cannabis market go from a niche, $14.8 billion market today, to a $100-plus billion industry that rivals the alcoholic beverage market by 2030.
2021 will go down as the year the real pot stock boom started.
So… which stocks look best?
Cronos (CRON) looks good, for its unique R&D-focused business model and multi-billion-dollar investment from Marlboro cigarette maker Altria.
Aphria (APHA) looks good, too, because of its size, high-quality reputation, and already profitable business model.
Green Thumb Industries (GTBIF) is another solid pick in this space, because this is the multi-channel retail giant in the U.S. cannabis industry that will likely win big as legal momentum gains traction in 2021.
And, for the bolder among us, High Tide (HITID) is an interesting high-risk, high-reward pick. This is one of the fastest growing and most popular cannabis retail store operators in Canada.
But even those four cannabis stocks are great plays on this megatrend with big upside potential, they pale in comparison to my top 3 pot stocks to buy right now.
One is a small technology company that is building the "Google of Marijuana" …
The other is the industry's first mover and undisputed giant, with the most talented management team and a huge balance sheet that's ready to support parabolic growth…
The last is a retailer that has a compelling opportunity to turn into the "Home Depot of Pot."
I've put the names, ticker symbols, and key business details of those three potential 10X investment opportunities in my brand-new, venture-capital-style research platform, Innovation Investor – which is aimed at identifying, at early stages, the most innovative companies in the market with the most explosive stocks.
To gain access to these potential 10X investment opportunities, click here.
Trust me. With the markets being unnecessarily dour and short-sighted on pot stocks right now, this is once-in-a-lifetime opportunity to buy a group of high-quality stocks with enormous upside potential at a huge discount. You don't want to miss out…
On the date of publication, Luke Lango did not have (either directly or indirectly) any positions in the securities mentioned in this article.
By uncovering early investments in hypergrowth industries, Luke Lango puts you on the ground-floor of world-changing megatrends. It's the theme of his premiere technology-focused service, Innovation Investor. To see Luke's entire lineup of innovative cutting-edge stocks, become a subscriber of Innovation Investor today.