Nearly everyone on Wall Street thought they knew exactly how yesterday would play out for the stock market.
But in reality, the exact opposite happened. And as a result, it seems to have confirmed that the stock breakout we've seen in early 2023 is the start of a big new bull market.
Yesterday, Federal Reserve Board Chair Jerome Powell delivered a speech at the Economic Club of Washington.
The last time Powell spoke publicly was last Wednesday. At the time, he admitted that the "disinflation cycle has begun." Those four words alone ignited a massive stock market rally in which the S&P 500 rose basically 4% in a matter of 24 hours.
It was one of the largest and fastest rallies on Wall Street of the past 12 months.

And that means some mega gains are on the way.
Bull Market Gains Are Coming
Powell doesn't live under a rock. Going into yesterday's speech, he knew that his words sparked a huge rally in stocks.
Throughout 2022, Powell pushed back against stock market rallies. Every time the market would roar after one of his speeches, he would purposefully sound hawkish in his next presser to knock down Wall Street's hopes for a Fed pause or pivot.
"Not this time" seemed to be his consistent message to the stock market in 2022.
Everyone expected him to send that same message yesterday, push back against his disinflation comments, and sound about as hawkish as ever.
But he didn't.
In fact, it was quite the opposite.
Powell didn't just double down on his disinflation comments; he started his whole speech by reiterating that the disinflation cycle has begun.
Sure, he also said some hawkish stuff. But that was expected.
The Jerome Powell that Wall Street has grown accustomed to over the past 12 months has been nothing but hawkish. But over the past week, the dovish Powell has started to re-appear.
The market thought they saw a dovish Powell last Wednesday. That's why stocks soared. But investors started to second-guess that dovishness as a mistake by the Fed chair.
That's why stocks dropped going into yesterday's speech.
Then… the dovish Powell made another appearance.
Two dovish Powell sightings in a week? That's no fluke. That's purposeful.
Powell is bracing the stock market for a Fed pause on rate hikes within the next few months.
He's also telling everyone that the bear market in stocks is over.
The Final Word
Fed pauses systematically spark massive stock market rallies.
That is, every single time the Fed has paused a rate-hike campaign over the past 50 years, the stock market proceeded to soar.
The rallies are almost always in excess of 20%!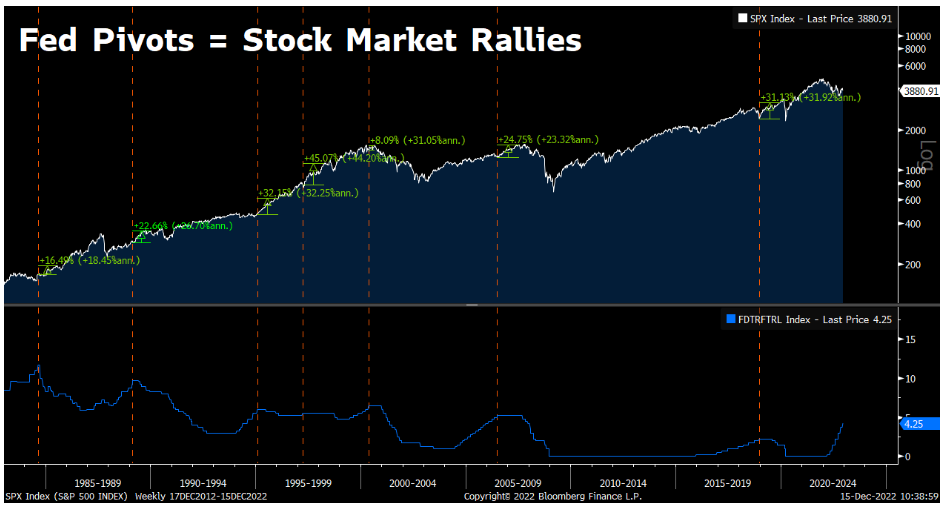 In other words…
Fed pauses systematically spark large stock market rallies, and Powell is purposefully shifting his rhetoric and sentiment to signal that a Fed pause is coming. And with it, a new bull market is emerging, too.
No wonder the stock market is rallying like it's 2021 all over again!
If you're participating in the rally, congratulations. If not, it's time to join the fun.
That's because, believe it or not, this isn't just any ordinary stock market breakout. Thanks to a rare stock market phenomenon we discovered last year, the 2023 stock market breakout could be one of the biggest ever.
On the date of publication, Luke Lango did not have (either directly or indirectly) any positions in the securities mentioned in this article.