This past Monday, Facebook (NASDAQ:FB) dominated the news following a whistleblower's leaked documents and subsequent 60 Minutes interview.
The documents were provided by a former Facebook employee and data scientist, who took tens of thousands of pages of internal research before she left the company. She alleges that Facebook concealed evidence that its platforms amplified misinformation, political division and hate, among other claims.
Market darlings like Facebook are not strangers to being under fire; Facebook's story is just a rehashing of what we've seen happen to Alphabet (NASDAQ:GOOG, NASDAQ:GOOGL) — and what may be underway for Apple (NASDAQ:AAPL).
An Alarming New Trend is Making Ordinary People Millions… Are You Getting Left Behind?
As it was announced in June, lawmakers planned to crack down on tech companies. Here's a snippet of what The New York Times revealed about it:
"The bills — five in total — take direct aim at Amazon, Apple, Facebook, and Google and their grip on online commerce, information and entertainment. The proposals would make it easier to break up businesses that used their dominance in one area to get a stronghold in another, would create new hurdles for acquisitions of nascent rivals and would empower regulators with more funds to police companies."
But does it mean the golden era of Silicon Valley is nearing an end?
Not necessarily… I'll tell you why.
The Dividing Line
In less than two months, Facebook has lost nearly $200 billion in market value and has had to surrender its $1 trillion valuation tag. The FAANG companies — Facebook, Amazon (NASDAQ:AMZN), Apple, Netflix (NASDAQ:NFLX) and Alphabet — are the top five most popular and best-performing U.S. technology companies. Considering the FAANGs make up 19% of the S&P 500's valuation and possess a combined market cap of $7.4 trillion, it puts a massive target on each of their backs.
The dominance of the FAANG stocks and the resulting antitrust efforts against them are side effects of the phenomenon that we call the "Technochasm."
As money flows into these companies, not only do their shares soar… but they also become more dominant in the U.S. economy, society and culture.
Just consider the chasm between Facebook's or Apple's influence over all our lives and the current influence of, say, General Motors (NYSE:GM) or Kraft Heinz (NASDAQ:KHC).
Today: Louis Navellier Presents His Bold Retirement Project
That's one obvious example of the Technochasm phenomenon.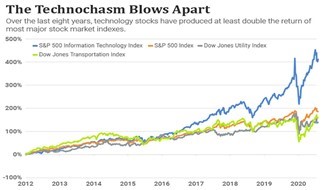 But do the monopolistic practices of these specific companies mean that Washington's regulatory "hammer" is now aimed at all of Silicon Valley?
I doubt it.
Any antitrust action the government might bring against tech companies would focus solely on gigantic companies like the FAANGs.
The rest of the tech sector would conduct business as usual, without any threat of government interference.
The "Secret Ingredient" Behind Louis Navellier's Biggest Stock Picks
But even if the FAANG sector escapes the talons of antitrust legislation, they should not be the stocks that top your list of promising investment candidates. Yes, they are great companies. But they have become too large to deliver major upside gains relative to smaller tech plays.
Compare Apple, which has a market cap of over $2 trillion and dominates several tech subsectors, to one of my favorite Technochasm stocks. It has a market cap of just over $1.5 billion and is growing fast within its tech niche. You can learn about that stock here.
Because of its small size, the stock I prefer to Apple could easily double or triple over the next couple of years. The $2 trillion Apple cannot.
The small companies that develop impressive new technologies are capable of surprising us… and have the potential to soar 10X over time.
Bottom line: If you're looking to invest in tech because you want to see big returns, you can't just look at the FAANGs and the other giants of the sector. Instead, set your targets on the small, innovative leaders of tomorrow. That's the best way to put your portfolio on the winning side of the Technochasm.
Go here to find out more about some of the specific tech winners I've been recommending.
Regards,
Eric Fry
P.S. A dividing line is being drawn in America… and it's making the rich folks richer while those who struggle to make ends meet continue to just tread water. There's no way to reduce this "chasm," but there is a way you can have the chance to be on the right side of it. Click here to learn how.
On the date of publication, Eric Fry did not have (either directly or indirectly) any positions in the securities mentioned in this article.
Eric Fry is an award-winning stock picker with numerous "10-bagger" calls — in good markets AND bad. How? By finding potent global megatrends… before they take off. In fact, Eric has recommended 41 different 1,000%+ stock market winners in his career. Plus, he beat 650 of the world's most famous investors (including Bill Ackman and David Einhorn) in a contest. And today he's revealing his next potential 1,000% winner for free, right here.