Dave Gilbert here, Editor of Smart Money.
There's an old term for a still relevant and highly effective investing strategy called "picks and shovels." It's a perfect description for what's going on with electric vehicles (EVs) right now.
The term goes back nearly two hundred years to when gold was discovered at Sutter's Mill in 1848. James Marshall, who was overseeing construction of a sawmill on the property of John Sutter, saw something glimmering in the water. You can see what is believed to be this very piece of gold in the Smithsonian's National Museum of American History.

Image: National Museum of American History
That piece of gold sparked the famous California Gold rush. As word of the discovery spread, thousands upon thousands of people rushed to California hoping to strike it rich by finding gold.
But a few smart folks took a different route to wealth: They sold basic goods to all of the miners.
A man named Sam Brannan was the first millionaire of the California Gold Rush. He made his fortune selling pots, pans, shovels, and picks to the gold hunters.
Another person whose name you may be more familiar with, Levi Strauss, started producing a new kind of durable pants for the miners. They became a huge hit, and Strauss got rich. He didn't risk everything he had trying to find a big strike. He simply sold goods to everyone else looking for the big strike, and today his company's famous blue jeans are still successful 169 years after he started his company.
That same strategy is worth thinking about today as automakers around the world race to build electric vehicles (EVs). It may be too early to tell which automakers will be most successful, but it's not too early to tell what supplies they are all going to need. And in fact, prices are already going through the roof…
---
Market Shock to Catch Millions Unaware
A system that predicted the 2020 COVID crash and this year's bear market has just released a new set of alerts. What comes next could turn your year around… or make it even more painful.
Click here to find out what's coming.
---
Higher Prices, Shrinking Supplies
Simply put, what is the most important part of an electric vehicle?
The electricity, of course. Which means the battery.
Some of the smartest minds in the world are hard at work trying to develop next-generation battery technology that will be safer and allow batteries to both charge faster and hold the charge longer. Solid-state batteries are one of the leading technologies in development.
Automakers aren't waiting for new batteries. They are moving full speed ahead – both industry giants and startups – to crank out EVs as quickly as possible. That in turn creates big demand for current batteries, which in turn creates high demand for the raw materials needed to make those batteries.
The picks and shovels, right?
Earlier this year, AlixPartners reported that the costs of raw materials needed for EVs soared nearly 150% since the start of the pandemic. Average raw material costs surged from $3,381 per vehicle in March of 2020 to $8,255 per vehicle in May of this year.
Leading the way are the metals needed to produce the batteries, primarily lithium, cobalt, and nickel. Lithium prices are up a stunning 10X from 2020. No wonder it is sometimes called "white gold."
The International Energy Agency (IEA) projects a possible shortage within the next three years, a time in which the push to EVs and reduced carbon emissions is expected to accelerate. Remember, too, that lithium is used in many applications beyond EVs, like your phone, tablet, and many other battery-powered devices.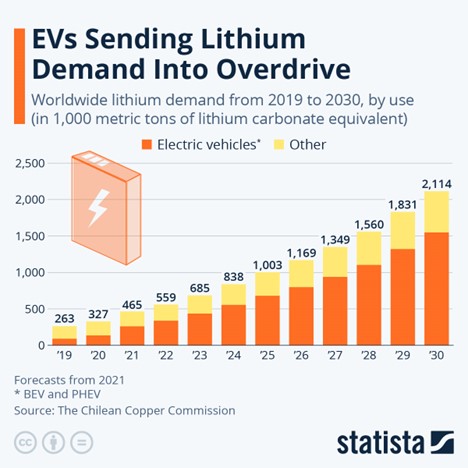 We've Seen This Trend Before
Eric Fry first identified this trend for his Investment Report readers nearly two years ago in the January 2021 issue. He called it The Battery Metal "Rush"…
The first major trend that could produce investment winners in 2021 is what I have been calling the Second Electric Revolution…

I'm talking about the massive worldwide transition from combustion-based modes of power generation to renewable modes that fuel an array of electric- and battery-based technologies.

To capitalize on this trend, I have recommended investing in the mining companies that are providing the metals essential to energy storage technologies…
And he added…
… investors are beginning to sense that the world's "plentiful" supplies of battery metals like copper, nickel, and lithium may not be quite as plentiful as they seemed a few months ago.
This continues to play out. Just this week, Volkswagen AG (VWAGY) entered into a deal with Brussel's-based Umicore SA (UMICF), which will supply battery materials to the world's largest automaker. Volkswagen plans to build six gigafactories to produce batteries that will help the company hit its goal by 2030 that one of every two cars sold will be an EV.
Big materials demand and rising prices indicate the power of the EV megatrend. They also add uncertainty. Higher battery costs are forcing EV manufacturers to raise prices, which at some point will negatively impact consumer demand. And if shortages worsen, automakers may not be able to hit their goals in the times they have stated.
It's still early to know which companies will ultimately emerge as the biggest EV winners. In the meantime, we can see the growing demand and rising prices of the "picks and shovels" needed to build the batteries. I think I know what Levi Strauss would say.
Sincerely,
Dave
P.S. Mysterious Alerts Signal Major Market Shift
They predicted the COVID Crash… the 2022 Bear Market… now they say something even bigger is around the corner. How do these strange alerts work? What massive event is about to take place? And most importantly, how can you prepare?
Click here to get the answers.
On the date of publication, Eric Fry did not have (either directly or indirectly) any positions in the securities mentioned in this article.