Gold Alternative #3: Silver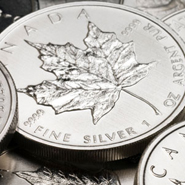 Just like its yellow counterpart, silver has seen phenomenal gains over the past few years — it was trading around just $8 five years ago, but has since reached highs of $48.
Also like gold, silver has dropped off recently. Silver is trading at $28 today, and hasn't broken $30 in months.
Still, physical silver at least has actual currency potential if you truly believe the dollar will become worthless — platinum and palladium, not-so-much. Not to mention, silver has a number of industrial and medical uses. Plus, if QE3 is around the corner, that could help the metal, too.
The easiest way to play pure silver (short of going out and buying physical silver bars yourself) is through ETFs. The iShares Silver Trust (NYSE:SLV) and smaller ETFS Silver Trust (NYSE:SIVR) are a pair of pure-play funds that hold silver bullion, and move almost identically with each other.
For a less direct play, Silver Wheaton (NYSE:SLW) and Pan American Silver (NASDAQ:PAAS) are among several popular silver mining stocks. Just remember: Miners are businesses, so there's a lot more to trading them than just watching the rise and fall of silver itself.