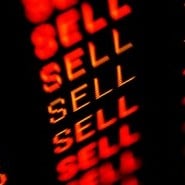 Wall Street is almost never bearish on a stock, so when they rate something a "sell," you know it's time to get out.
Equity analysts are known for being, shall we say, overly optimistic about the companies they cover. That is, they hate to slap a "sell" call on anything.
Partly that's because they don't want to alienate potential clients of their firms' investment banking divisions. And partly it's because they don't typically look for short opportunities. Hey, if you're looking for stocks to recommend to long-only investors, why put resources into covering dogs?
As a result, "sell" is a four-letter word when it comes to Wall Street stock recommendations.
At the end of the third quarter, there were more than 11,000 ratings on stocks in the S&P 500, according to data from FactSet. Of those, 49% had "buy" ratings and 46% were called "holds." Only 5% of the stock recommendations were "sells."
True, there's a bull and a bear case to be made on pretty much any asset, but some stocks just aren't worth the trouble — not when even Wall Street analysts won't touch them.
Here are three stocks where Wall Street's average recommendation is "sell," according to data from Thomson Reuters. If you hold any of these names, you might want to reconsider.