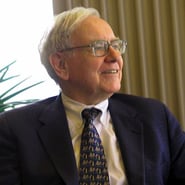 Berkshire Hathaway's (BRK.B) latest 13F is 42 companies strong, with assets totaling $92 billion, and the lot of these Warren Buffett picks are being scoured by stock-pickers to see which ones they love the most for their own portfolios.
However, while Warren Buffett (and money managers Todd Combs and Ted Weschler) are great at what they do, not all of their investment picks are necessarily winners.
Granted, picking stocks and recommending companies that Berkshire Hathaway should unload is a lot like telling Bill Belichick how to coach.
Nonetheless, I've scoured the 13F, and I believe there are three stocks that need to go.