#1: Increase Your 401k Contribution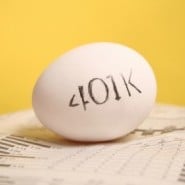 This simple strategy involves no extra work other than a trip to HR to adjust your allocation up $1,000 a year.
You'll barely miss the cash if you get paid every two weeks; your investment adds up to a mere $38.50 per pay period. It's a sneaky but effective way to get ahead!
There are secondary benefits to this approach, too:
Your pretax income is reduced by this contribution, which will help on your tax returns.
If you're already in your employer's 401k, there's no complication of an extra investing account.
Investing across the year rather than all at once lets you "average in" your investment over time to reduce risk and ensure you're not buying at a bad time.
If you're not already getting the full "match" amount from employer's 401k plan — where they pay in more when you pay in more — you're actually giving yourself a raise of sorts!
The one drawback is that 401k funds are locked up until you're age 59 1/2. While there are exceptions that allow you to get "hardship" withdrawals, most actions to access your 401k funds will result in high fees and taxes. So make sure this is money you can part with before you ramp up your contribution.
Also, your money only grows based on the investment options in your 401k. If you decide to park that $1,000 in a money market fund with 0.01% interest … well, it will never grow. Similarly, if you make an aggressive bet on small companies or international investments, your 401k could actually lose value if things don't pan out.
So talk to your HR representative about the options in your plan and figure out which strategy is best for your goals.